Right to Film Police Affirmed by Federal Court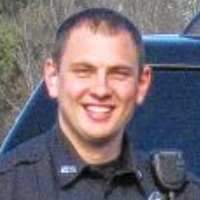 Brandon Montplaisir (photo: Concord Monitor)
Police in New Hampshire were wrong to arrest a woman trying to film a traffic stop, which constituted a violation of her First Amendment rights, a federal appellate court has ruled.
The First Circuit Court of Appeals found in a favor of Carla Gericke, who tried to record police in the town of Weare after her friend was pulled over in March 2010.
Standing 30 feet from the officer, Gericke pointed her video camera, which was later found to be not working and failed to record events. Sergeant Joseph Kelley did not instruct Gericke to put the camera away while dealing with her friend, Tyler Hanslin, who was stopped for a traffic violation.
But a second officer at the scene, Brandon Montplaisir, arrested Gericke for unlawful interception of oral communications and seized her camera.
The charges were later dropped. Gericke, however, filed a civil rights lawsuit against the officers and the town. The police failed to convince a federal judge that they were entitled to qualified immunity, prompting an appeal to the First Circuit.
There, a panel of judges ruled that Gericke was acting within her constitutional rights to film the traffic stop.
"Under Gericke's account, she was permissibly at the site of the police encounter with Hanslin," Judge Kermit Lipez wrote. "It would be nonsensical to expect Gericke to refrain from filming when such filming was neither unlawful nor the subject of an officer's order to stop. In the absence of such restrictions, a reasonable police officer necessarily would have understood that Gericke was exercising a clearly established First Amendment right."
The issue of citizens recording law enforcement officers has garnered increased attention as a result of the widespread use of smartphones with video recording capabilities. So many cases have been litigated in various states that a year ago the Obama administration Justice Department weighed in in the case of Mannie Garcia, a photojournalist who, in June 2011, took pictures of two police officers in Wheaton, Maryland, making an arrest. The Justice Department took the position that all Americans have a First Amendment right to record law enforcement officers performing their duties. The department added that Americans are protected under the Fourth and 14th Amendment from having their recordings seized without a warrant or due process.
-Noel Brinkerhoff
To Learn More:
Right to Record Police Affirmed by 1st Circuit (by Lorraine Bailey, Courthouse News Service)
Carla Gericke v. Gregory Begin (First Circuit Court of Appeals) (pdf)
Justice Dept. Supports Right of Citizens to Photograph and Film Police (by Noel Brinkerhoff, AllGov)
Illinois Law Criminalizing the Recording of Police Activity Comes to an End after 51 Years (by Noel Brinkerhoff, AllGov)