Justice Dept. Supports Right of Citizens to Photograph and Film Police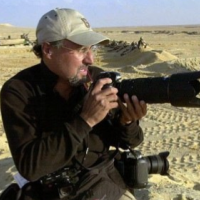 Mannie Garcia (photo: manniegarcia.com)
The Obama administration says Americans have the constitutional right to record police officers making arrests, lending weight to a legal debate that has grown in the era of camera-ready smartphones.
The administration's legal position was stated in a court filing by the U.S. Department of Justice, which has sided with the plaintiff in Garcia v. Montgomery County.
The case involves Mannie Garcia, a photojournalist who, in June 2011, took pictures of two police officers in Wheaton, Maryland, making an arrest. The officers demanded that Garcia stop taking photos, and when he refused, they put him in a choke hold, confiscated his camera and arrested him. Garcia was later acquitted of disorderly conduct. He then sued the officers and department.
Garcia is best known for two photos he took of U.S. presidents: George W. Bush staring out the window of Air Force One in 2005 at the damage in New Orleans caused by Hurricane Katrina and the portrait of Barack Obama that Shepard Fairey turned into the iconic Obama "HOPE" poster.
In the statement filed in a Maryland federal court, the Justice Department said all individuals—not just credentialed photojournalists—have a First Amendment right to record law enforcement officers performing their duties.
The department added that Americans are protected under the Fourth and 14th Amendment from having their recordings seized without a warrant or due process.
Justice officials have urged the court to uphold these constitutional guarantees and reject the police department's motion to dismiss the lawsuit.
-Noel Brinkerhoff
To Learn More:
U.S. Weighs In Favor Of Right To Record Police (by Josh Gerstein, Politico)
Mannie Garcia v. Montgomery County, Maryland (U.S. District Court, Maryland)
Illinois Law Criminalizing the Recording of Police Activity Comes to an End after 51 Years (by Noel Brinkerhoff, AllGov)
Why are Americans Arrested for Videotaping Police in Public Places? (by Noel Brinkerhoff, AllGov)