Revised ID Requirements for Air Travel, if Enacted, May Put Passengers' Privacy at Risk
Tuesday, December 29, 2015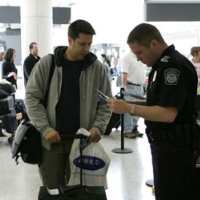 Airport officer checks a passenger's ID (photo: James Tourtellotte, DHS)
A battle between the Department of Homeland Security (DHS) and privacy advocates may soon claim its first victims—holders of driver's licenses the agency deems not secure enough for boarding airliners.
A decade ago Congress adopted the Real ID Act (pdf), which was recommended by the 9/11 Commission to enhance the nation's security and reduce identity theft and fraud. The law hasn't been enforced, but now DHS is threatening to do just that.
Some states as well as privacy experts, civil liberty organizations and libertarian groups say the law's requirements for secure identification would amount to something like a national identification card. More than 10 states' motor vehicle departments are forbidden from complying with the law.
"The federal government has quietly gone around and clubbed states into submission," Warren Limmer, a state senator in Minnesota and one of the authors of a 2009 state law that prohibits local officials from complying with the federal law, told The New York Times. "That's a pretty heavy club."
If DHS tells the Transportation Security Administration to begin enforcing the law, it could mean passengers from some states would not be able to use their driver's licenses at airport security checkpoints and would have to use approved identification, such as a passport, according to the Times.
Those most at risk of having their driver's licenses rejected at airports are those from Minnesota, New Mexico and Washington. Most states have made enough progress that DHS has certified or provided extensions to all but a few, the Times reported.
Edward Hasbrouck of the Identity Project, a privacy advocate, told the newspaper the situation amounts to a "game of intimidation being played out between Congress and the federal government and state governments, with ordinary citizens being squeezed in the middle."
-Noel Brinkerhoff, Steve Straehley
To Learn More:
TSA Moves Closer to Rejecting Some State Driver's Licenses for Travel (by Jad Mouawad, New York Times)
Millions of Americans Might Need Passports to Fly Domestic (by Jose Pagliery, CNN)
California Issues Proposed New Rules for Immigrant Driver's Licenses Already Rejected by the Feds (by Ken Broder, AllGov California)
TSA Runs Background Checks of U.S. Passengers before They Arrive at the Airport (by Noel Brinkerhoff and Danny Biederman)