Repeal of Affordable Care Act would Increase Output, but would also Increase Deficit and Number of Uninsured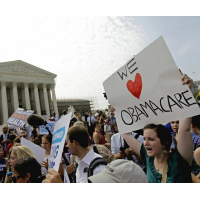 (photo; David Goldman, AP)
Republicans' dream, repeal of the Affordable Care Act, would increase the deficit and the number of uninsured people in the United States but would also increase output—because more people would be forced to work to have healthcare.
A report (pdf) from the Congressional Budget Office outlines the effects that an appeal would have. Fourteen million Americans would lose coverage through Medicaid and 18 million fewer would have insurance through the federal exchanges. That would be partly offset by 8 million more people who would be insured through their employers.
A repeal would hit lower-wage earners the hardest, including those who are forced to return to work. "In percentage terms, the increase in total hours worked is estimated to be larger than the increase in aggregate compensation because the largest increases in labor supply would occur among the lower-wage workers whose incentives would be most strongly affected," the report states.
The deficit, which Republicans often claim as a reason to vote against programs they otherwise don't like, would increase by a net $137 billion. Repeal of the ACA would also accelerate Medicare spending, the growth of which had slowed.
Other effects, as summarized by The New York Times, would be:
■ The federal government would lose $43 billion in penalty payments from those who chose not to have insurance.
■ The government would lose $167 billion in penalty payments from large employers, who are required to offer insurance to full-time employees.
■ It would lose $87 billion from eliminating a excise tax on certain so-called "Cadillac" employment-based health plans with relatively high premiums.
■ It would lose $346 billion in new taxes paid by high-income people, $142 billion in fees paid by insurance companies and $54 billion in fees paid by manufacturers of prescription drugs and devices.
■ It would save $822 billion because it would no longer subsidize some private insurance bought through the exchanges.
■ It would save $824 billion in Medicaid and the Children's Health Insurance Program.
-Steve Straehley
To Learn More:
Mixed Effects Are Seen on an Affordable Care Act Repeal (by Robert Pear, New York Times)
Budgetary and Economic Effects of Repealing the Affordable Care Act (pdf) (Congressional Budget Office)
4 Words that could Raise Health Care Costs for 7.5 Million Americans (by Noel Brinkerhoff and Steve Straehley, AllGov)
Insurance Companies Brace for Financial Setbacks if Supreme Court Defunds Obamacare…Patients to Follow (by Noel Brinkerhoff, AllGov)
Anti-Obamacare Legal Case is a Lawsuit in Search of Victims (by Danny Biederman and Noel Brinkerhoff, AllGov)