Renewable Energy Reaches Largest Share Since 1930s Use of Wood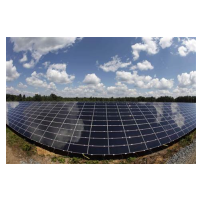 25-acre solar farm that powers the Pocono Raceway in Long Pond, PA. (photo: Matt Slocum, AP)
The use of renewable energy in the United States has reached levels not seen in more than 80 years, according to new federal energy data.
Last year, 9.8% of the nation's energy consumption was supplied by renewable energy sources, the U.S. Energy Information Administration (EIA) reported. The share marked the highest for renewable energy since the 1930s, when wood was a much larger contributor to the domestic energy supply, according to EIA.
The transportation sector experienced the largest percentage growth in renewable consumption due to growing demand for biofuels. Transportation now uses 13% of all renewable energy domestically.
The EIA reported that energy sources such as solar, wind and biomass have been expanding in use since the beginning of this century by an average of 5% per year. The use of wind farms from 2001 to 2014 resulted in an increase from 70 trillion Btu to more than 1,700 trillion Btu, the EIA numbers show. Solar energy grew from 64 trillion Btu in 2001 to 427 trillion Btu by 2014, while biomass went from 253 trillion Btu to 2,068 trillion Btu.
The largest source of renewable energy in the U.S. is still hydroelectricity, "but hydro consumption has decreased from higher levels in the mid-to-late 1990s," according to EIA.
Wood is the second-largest renewable energy source, thanks in part to recent demand for wood pellets that fuel stoves.
-Noel Brinkerhoff
To Learn More:
Renewables Share of U.S. Energy Consumption Highest Since 1930s (Energy Information Administration)
Growth of Renewable Energy Expected to be undeterred by Lower Oil Prices (by Noel Brinkerhoff, AllGov)