Growth of Renewable Energy Expected to be undeterred by Lower Oil Prices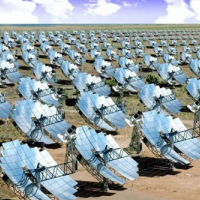 The huge drop in oil prices is not going to slow the development of renewable energy sources, according to some of the world's biggest banks.
At least three major financial institutions—Citigroup, Deutsche Bank and Goldman Sachs—have separately said wind and solar power projects won't be deterred by cheap oil. "The underlying drivers of renewable energy adoption—policy, increasing competitiveness, and energy security—point to continued long-term growth" of renewables, a Citigroup report said according to Bloomberg.
Financial experts say petroleum and renewable energy are more exclusive of one another than many people realize. Oil is vital for automobiles and home heating, but provides only 1% of the electrical generation in the United States. Solar, wind and hydropower, however, contribute to 12% of the electricity on the grid. Renewables' competition there is natural gas, which is used to generate more than 25% of the electricity supply.
Even here there might be some good news. Samantha Page at ThinkProgress wrote: "If low oil prices cause suppliers to limit production, natural gas prices could actually go up, making renewable energy even more cost effective."
-Noel Brinkerhoff
To Learn More:
Why Low Oil Prices Won't Stop the Growth of Renewable Energy (by Samantha Page, ThinkProgress)
Cheap Oil Unlikely to Slow Growth of Renewables, Citigroup Says (by Ehren Goossens, Bloomberg)
Clean Power to Shrug Off Oil Slump, Goldman, Deutsche Bank Say (by Ehren Goossens and Christopher Martin, Bloomberg)
Renewables Re-energized: Green Energy Investments Worldwide Surge 17 Percent to $270 Billion in 2014 (United Nations Environment Program)
International Report Predicts Renewable Energy Sources will Pass Natural Gas by 2016 (by Noel Brinkerhoff, AllGov)
As Renewable Energy Spreads in Europe, U.S. Resists Growth (by David Wallechinsky, AllGov)