President of the U.S. Institute of Peace: Who Is Nancy Lindborg?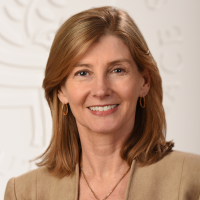 Nancy Lindborg
Nancy Lindborg, who has worked to improve conditions in distressed parts of the world for most of her career, has been president of the U.S. Institute of Peace since February 2015. Founded in 1984 and signed into law by President Ronald Reagan, the Institute of Peace is funded by Congress and works to prevent and resolve violent international conflicts, promote post-conflict stability and development, and increase conflict management capacity. On January 9 and 10, 2017, the Institute held its third "Passing the Baton" conference, bringing together foreign policy and national security figures from the outgoing Obama administration and incoming Trump administrations. However, President Donald Trump has called for the Institute's funding to be eliminated.
Lindborg is from Minnesota and graduated from Edina East High School in 1976. She went west to Stanford where, through a coterminal degree program, she earned both a B.A. and an M.A. in English literature in 1981. She also earned a master's in public administration from Harvard's Kennedy School of Government in 1992.
Lindborg got her first taste of international relations when she went to Nepal after graduating college. She was offered a job teaching English and stayed there more than two years. She also worked early in her career as a public policy consultant in Chicago and San Francisco.
In 1996, Lindborg joined Mercy Corps, a non-governmental organization that works in regions that have suffered some kind of crisis. After working to solve the immediate needs of the area, Mercy Corps promotes community-based improvements. The organization has even provided relief in North Korea. Lindborg served as president of Mercy Corps for six years, helping to build it into a $300 million organization.
After leaving Mercy Corps, Lindborg, in November 2010, was sworn in as assistant administrator of the Bureau for Democracy, Conflict and Humanitarian Assistance at the U.S. Agency for International Development (USAID). She led efforts to mitigate suffering during the Syria crisis, the droughts in Sahel and Horn of Africa, the Arab Spring, the Ebola response and other crises. She remained there until joining the Institute of Peace.
On March 22, 2017, Lindborg testified before the Senate Foreign Relations Committee decrying cuts in the foreign aid budget proposed by President Trump.
Lindborg is married to Steven Kull, who is president of Voice of the People, an organization that polls a panel of 120,000 Americans on issues of the day as kind of a giant advisory board for the federal government.
-Steve Straehley
To Learn More:
First Things First: A Career Born Out of a Life-Changing Post-Grad Trip to Nepal (by Melissa Wylie, Atlanta Business Chronicle)