Obama Withdraws Support for Atlantic Coast Oil Drilling Plan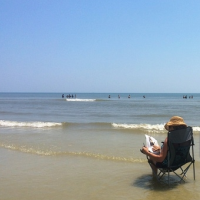 Clear view of the Atlantic Ocean off the coast of Florida (photo: Diane Macdonald, Getty Images)
By Coral Davenport, New York Times
The Obama administration is expected to withdraw its plan to permit oil and gas drilling off the southeast Atlantic coast, yielding to an outpouring of opposition from coastal communities from Virginia to Georgia but dashing the hopes and expectations of many of those states' top leaders.
The announcement by the Interior Department, which is seen as surprising, could come as soon as Tuesday, according to a person familiar with the decision who was not authorized to speak on the record because the plan had not been publicly disclosed.
The decision represents a reversal of President Barack Obama's previous offshore drilling plans, and comes as he is trying to build an ambitious environmental legacy. It could also inject the issue into the 2016 presidential campaigns, as Republican candidates vow to expand drilling.
Last January, Obama drew the wrath of environmentalists and high praise from the oil industry and southeastern governors after the Interior Department put forth a proposal that would have opened much of the southeastern Atlantic coast to offshore drilling for the first time.
The proposal came after governors, state legislators and senators from Virginia, North Carolina, South Carolina and Georgia all expressed support for the drilling. Lawmakers in the state capitals saw new drilling as creating jobs and bolstering state revenue.
But the offshore drilling proposal, which was still in draft form and was not to be finalized until later this year, provoked a backlash from coastal communities including Norfolk, Virginia, which supports the world's largest naval base; Charleston, South Carolina; and tiny tourist towns around Myrtle Beach, South Carolina, and the Outer Banks of North Carolina.
In addition, more than 80 East Coast state legislators and the owners of about 1,000 coastal businesses signed letters to Obama opposing the drilling.
Environmental groups and many coastal residents fear that opening the Atlantic to drilling could lead to a repeat of the 2010 Deepwater Horizon explosion in the Gulf of Mexico, which killed 11 people and sent millions of gallons of oil to the shores of nearby coastal states.
To Learn More:
Would Atlantic Wind Energy Create more Jobs than Offshore Oil Drilling? (by Noel Brinkerhoff, AllGov)
Dream Come True for Oil Companies: Obama Expected to Approve Drilling off Atlantic Coast from Virginia to Georgia (by Noel Brinkerhoff and Steve Straehley, AllGov)