Obama Prepares Largest Arms Sale Ever…to Saudi Arabia
Wednesday, September 15, 2010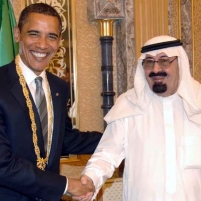 Barack Obama with Saudi King Abdullah
The $60 billion package would include 84 new F-15 fighters, as well as another 70 existing ones that would be upgraded, and three types of helicopters—70 Apaches, 72 Black Hawks and 36 Little Birds.
Furthermore, the administration wants to sell the Saudis another $30 billion in ships and hardware to upgrade the kingdom's naval forces.
And there's talk of selling Saudi Arabia the Terminal High Altitude Defense (THAAD) missile defense system to replace existing Patriot missiles intended to protect against an Iranian missile attack.
The Obama administration also may pushing the lucrative deal with Saudi Arabia to make up for last year's downturn in global arms sales. While the U.S. maintained its standing as the No. 1 dealer of weapons around the world, it nonetheless saw a considerable drop in revenue from such sales, from $38.1 billion in 2008 to $22.6 billion in 2009. This still represented 39% of the world total.
Although Saudi Arabia's vast oil reserves have secured its good relations with every president, Democratic and Republican, since the days of Franklin Roosevelt, the Saudi royal family continues to run one of the most repressive and undemocratic dictatorships in the world.
-Noel Brinkerhoff