Obama has Issued Fewest Vetoes of any Two-Term President Since James Monroe…for the Moment
Monday, November 17, 2014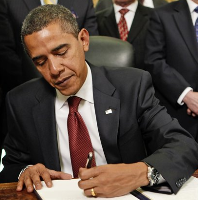 (AP Photo)
The ink in President Barack Obama's veto pen has been much more likely to dry up than be used up. It's gotten a workout only twice in Obama's term, once to stop a bill that would have made foreclosures easier during the financial crisis and another time on a resolution that had been made moot by other legislation.
In comparison, George W. Bush vetoed 12 bills during his two terms and Bill Clinton vetoed 37, with two of those overridden, according to data from the U.S. Senate.
The last president who was in office six years to veto as few bills as Obama was James Monroe, who vetoed one bill from 1817 to 1825. But the world's a different place now, especially since the midterm election earlier this month that will put Republicans in control of both houses of Congress.
Without even waiting for the new Congress to take office, Obama might choose to break out the seldom-used pen. Sen. Mary Landrieu (D-Louisiana) is in a desperate fight to hold on to her seat in a runoff next month and has forced the Senate to vote on approving the Keystone XL pipeline, which would funnel toxic tar-sands oil from Canada to the Gulf of Mexico. The House has already passed the bill and there's a good chance that with votes from some Democrats it could clear the Senate as well.
The president has expressed a preference for legal challenges and a State Department review of the pipeline to conclude first, according to Russell Berman of The Atlantic. Obama could still sign the bill in the hopes that that would boost Landrieu's candidacy, but that's probably doomed even if the pipeline's approved. However, such a move would upset environmentalists who see the pipeline as risky and others who point out that much of the oil to be transported is for export, not for domestic use.
Even considering the Republican landslide this month, the GOP won't have enough votes on its own in the new session to stop filibusters by the Democrats, so it's possible that there will still be few bills Obama deems veto-worthy. Any he does issue will probably stick, however. The House and Senate would need a two-thirds majority to override a veto, and that's not likely to happen.
-Steve Straehley
To Learn More:
Return of the Veto? (by Russell Berman, The Atlantic)
Presidential Veto Counts (United States Senate)