Obama Declares Venezuela a Threat to National Security (But Keep Selling us Oil)
Wednesday, March 11, 2015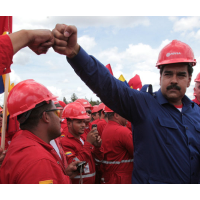 Venzuela's President Nicolas Maduro visits state oil company workers (photo Miraflores Presidential Press Office/AP)
Venezuela has been declared a national security threat by President Barack Obama, but the U.S. will continue to import oil from the country, the fourth largest crude supplier to the United States.
Obama's announcement targeted seven Venezuelan officials who are now subject to U.S. sanctions. The seven "all come from the top echelon of the state security apparatus that was responsible for cracking down on anti-government protests that rocked Venezuela last year and for pursuing charges against leading opponents," according to the Associated Press.
The sanctions provoked a fiery response from President Nicolas Maduro, who accused the U.S. of trying to meddle in his country's internal affairs and undermine his government. Maduro recalled his charge d'affaires in Washington in response to Obama's move. The U.S. and Venezuela don't have full diplomatic relations and haven't since 2008, when former President Hugo Chavez expelled then-U.S. Ambassador Patrick Duddy. The George W. Bush administration responded by expelling Venezuelan envoy Bernardo Alvarez.
The sanctions will not change the economic relationship between the two countries. The U.S. is Venezuela's top trading partner, and the U.S. imports an average of 733,000 barrels of oil per day from the South American nation.
The seven officials subject to sanctions are: Antonio José Benavides Torres, commander in the Bolivarian National Armed Forces; Gustavo Enrique González López, director general of the Bolivarian National Intelligence Service; Justo José Noguera Pietri, president of the Venezuelan Corporation of Guayana; Katherine Nayarith Haringhton Padrón, prosecutor of several opposition members; Manuel Eduardo Pérez Urdaneta, director of the Bolivarian National Police; Manuel Gregorio Bernal Martínez, chief of the 31st Armored Brigade of Caracas of Venezuela's Bolivarian Army and former director general of national intelligence services; and Miguel Alcides Vivas Landino, inspector general of the Bolivarian National Armed Forces.
The seven will have any property or interests in the United States frozen or blocked and they will be denied entry into the U.S. In addition, U.S. citizens and permanent residents are forbidden from doing business with them.
-Noel Brinkerhoff
To Learn More:
U.S. Declares Venezuela a National Security Threat, Sanctions Top Officials (by Jeff Mason and Roberta Rampton, Reuters)
'Deeply Concerned' Obama Imposes Sanctions On Venezuelan Officials (Associated Press)
Trade in Goods with Venezuela (U.S. Census Bureau)
U.S. Exports to Venezuela by 5-digit End-Use Code 2005 - 2014 (U.S. Census Bureau)
NSA Spying on Latin American Countries Included Targeting of Trade Secrets (by Noel Brinkerhoff, AllGov)