Obama Administration Releases Heavily Censored Version of 6-Year-Old Secret Report Casting Doubt on Legality and Effectiveness of Bush's Warrantless Spying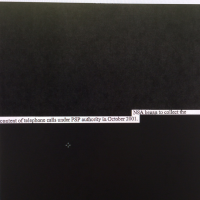 Newly released information from the President's Surveillance Program report
After the terrorist attacks of September 11, 2001, the George W. Bush administration ordered the National Security Agency (NSA) to ignore the Foreign Intelligence Surveillance Act of 1978 by beginning the secret warrantless surveillance of international phone calls, emails and data without going through the Judicial Branch of government. This surveillance evolved into a program called Stellarwind. Now, newly declassified documents show that the data obtained from Stellarwind was so secret that it was not useful in tracking terrorists.
The report was prepared jointly in 2009 by the inspector general offices of the Defense Department, the Justice Department, the Central Intelligence Agency (CIA), the National Security Agency and the Office of the Director of National Intelligence. It was dumped, with large portions blacked out, late Friday on the weekend of the White House Correspondents' dinner after a Freedom of Information request by The New York Times.
The report showed that because Federal Bureau of Investigation (FBI) agents and other law enforcement officers were kept in the dark about the source for some data, it couldn't be used in prosecutions. The FBI in 2004 examined whether Stellarwind data made a "significant contribution" to identifying a terrorist, deporting a terrorism suspect, or developing a confidential informant about terrorists, according to Charlie Savage of the Times. Only 1.2% of the tips panned out, the review showed. In 2006, the Bureau looked at the leads produced from 2004 until then. None proved useful.
The legal justification for Stellarwind was also questionable. Justice Department attorney John Yoo wrote a memo to give the program the cloak of legality. However, the program was already underway by the time Yoo composed his memo and, when the memo was examined after Yoo left the administration, its arguments were found to be flawed. Among other things, Yoo's analysis relied on an assumption that warrants were not required for national security searches during time of war. However, Yoo didn't know or conveniently left out that the provision applies only for the first 15 days of a war.
The report also fills in details about previously reported stories. Most notably, it was already known that a dramatic March 10, 2004, confrontation in the intensive care hospital room of Attorney General John Ashcroft between Ashcroft and his deputy James Comey on one side and White House Counsel Alberto Gonzales and Bush Chief of Staff Andrew Card on the other was part of a clash between President Bush' Executive Office and his own Justice Department. The newly revealed report makes it clear that the confrontation was about the legality of the Stellarwind program.
Congress and President Bush legalized warrantless surveillance in August 2007 when Bush signed into law the Protect America Act of 2007.
Some details of the Stellarwind program were released last year, but most of the report was redacted. That release also came—surprise!—on a Friday night, that one at the start of Labor Day weekend.
-Steve Straehley, David Wallechinsky
To Learn More:
Declassified Report Shows Doubts About Value of NSA's Warrantless Spying (by Charlie Savage, New York Times)
Report on the President's Surveillance Program (pdf)
NSA Collected U.S. Email Records in Bulk for More Than Two Years Under Obama (by Glenn Greenwald and Spencer Ackerman, The Guardian)
Obama Justice Dept. Releases George W. Bush's Legal Justification for Warrantless Surveillance with Key Sections Still Censored (by Steve Straehley and David Wallechinsky, AllGov)
Secret Bush Memos Released...And the Ones Still Hidden (by Aaron Wallechinsky, AllGov)