North Carolina Legislature Overrides Governor's Veto and Makes it Illegal to Photograph Workplace Violations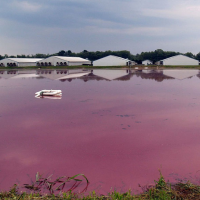 North Carolina hog farm waste lagoon--Credit: Defmo Flickr Creative Commons
The North Carolina legislature has overridden a veto of a law that will allow businesses to sue employees who report illegal or unethical corporate behavior.
Republican Governor Pat McCrory vetoed the bill that provided for businesses to pursue civil charges against employees who photograph, shoot video or steal data or documents, even if the intent is to expose wrongdoing. McCrory said the legislation would discourage employees who witness illegal activity from reporting it.
Animal rights activists, who have criticized the treatment of pigs on the state's numerous hog farms, characterized the law as a new form or "ag-gag."
Paul Shapiro, vice president of farm animal protection at the Humane Society of the United States, told Salon the change "really demonstrates just how much the meat industry has to hide." Although undercover footage has shown abuses at factory farms, Shapiro said the legislature's response "isn't to crack down on the cruelty, it's to crack down on the whistle-blowing."
North Carolina has 50,000 farms with 8.6 million hogs, 800,000 cows and nearly 800 million broiler chickens. One of the biggest pork producers, Smithfield Foods, was recently purchased by Chinese companies backed by that country's government. Smithfield, Purdue, Cargill and others claimsthe law is necessary to stop corporate espionage and internal data breaches.
In addition to animal welfare groups, AARP and veterans organizations also opposed the law, saying its provisions could silence whistleblowers at nursing homes and veterans hospitals.
-Noel Brinkerhoff
To Learn More:
North Carolina's Chilling New Twist On "Ag-Gag" (by Lindsay Abrams, Salon)
The Unintended Consequences Of North Carolina's 'Ag-Gag' Law (by Natasha Geiling, ThinkProgress)
Chinese Company's Purchase Could Impact The U.S. Food Industry (PBS NewsHour)
One Republican Governor Vetoes Bills against Same-Sex Marriages and Undercover Workplace Investigations; Another Allows a Fracking Ban (by Steve Straehley, AllGov)
Hundreds in North Carolina File Complaints over Hog Waste (by Noel Brinkerhoff and Danny Biederman, AllGov)
Chinese Bid to Buy Largest U.S. Slaughterhouse Company (by Matt Bewig, AllGov)