New York Police Work Slowdown Backfires, Revealing Time Wasted on Petty Violations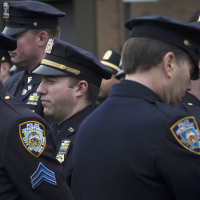 New York police turn their backs to video image of Mayor Bill de Blasio (photo: John Minchillo, AP)
An alleged work slowdown in a fit of pique by New York City police officers could turn out to have the opposite of its intended effect, causing Big Apple residents to lose respect for "New York's Finest."
The work slowdown is the latest NYPD tactic in its battle with New York Mayor Bill de Blasio. Officers turned their backs on the mayor when he spoke at the funeral of Rafael Ramos, an officer killed on December 20 by a gunman, Ismaaiyl Brinsley, who cited police abuses as the reason for his crime. Now police officers, at the behest of the Patrolmen's Benevolent Association, are not enforcing the law "unless absolutely necessary." During the week of December 22, arrests were down 66% and traffic and parking tickets and summons for minor offenses were down more than 90% from the same week in 2013.
Instead of concern, many are grateful for the diminished police presence. Tickets and summons have been issued disproportionally to those in the working class, forcing them to bear much of the city's revenue burden. Now the targeting has stopped and those around the political spectrum wonder if it was ever necessary, according to BBC News.
"Well, we can only hope the NYPD unions and de Blasio settle their differences soon so that the police can go back to arresting people for reasons other than 'when they have to'," Scott Shackford of the libertarian Reason magazine wrote. In Rolling Stone, Matt Taibbi's response to the slowdown was that it "shines a light on the use of police officers to make up for tax shortfalls using ticket and citation revenue."
And Harry Siegel wrote in the New York Daily News on what might be the effect on attitudes toward police. "It's tough to run a protection racket when people don't feel threatened, and New York ended 2014 with new lows in murders, rapes, burglaries, grand larcenies and robberies," he wrote. "For over 20 years, crime has dropped as the NYPD has doubled and redoubled its enforcement efforts. At some point, the chemo is deadlier than the cancer."
Police felt slighted by de Blasio when the mayor decried the decision of a grand jury not to indict the police officers responsible for the death of Eric Garner, who was put in a chokehold while being arrested for selling individual cigarettes. De Blasio said the decision was one that "many in our city did not want."
He went on to speak of his son Dante, who is black. "I couldn't help but immediately think what it would mean to me to lose Dante. Life would never be the same for me after," de Blasio said. "Chirlane and I have had to talk to Dante for years about the dangers that he may face," he added. "No family should have to go through what the Garner family went through." NYPD officers and their union took that as a sign of disrespect.
Some police officers repeated their back-turning protest at Sunday's funeral for Wenjian Liu, who was also killed by the man who killed Officer Ramos.
-Steve Straehley
To Learn More:
Is New York Police's 'Virtual Work Stoppage' a Boon For Critics? (by Anthony Zurcher, BBC News)
Arrests Plummet 66% With NYPD in Virtual Work Stoppage (by Larry Celona, Shawn Cohen and Bruce Golding, New York Post)
How Low Income New Yorkers Are Benefiting From the NYPD's Work Stoppage (by Kira Lerner and Igor Volsky, ThinkProgress)
Respect for NYPD Squandered in Attacks on Bill de Blasio (New York Times)
Bill de Blasio Responds to Eric Garner Grand Jury Decision (by Sam Levine, Huffington Post)
The Overlooked Third Victim of the New York Cop Killer (by Noel Brinkerhoff, AllGov)
Two Most-Sued Cops in New York Cost City $1.9 Million in Payouts (by Noel Brinkerhoff, AllGov)
Bystanders Hit by Police Bullets in New York City Get Little Sympathy and No Compensation (by Noel Brinkerhoff and Danny Biederman, AllGov)