New Obama Program would Extend Right to Free Education to Community College (with Good Enough Grades)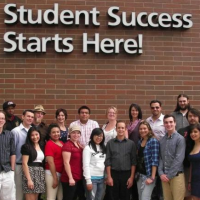 (photo: Lane Community College)
Millions of community college students could receive a free education under a new program proposed by President Barack Obama. The catch is that they must keep up with their schoolwork.
An estimated 9 million students in the U.S. could receive a tuition-free ride through community college as long as they maintain a 2.5 grade point average (a C+) and are making "steady progress" toward completing a program. The plan would cover both full-time and half-time students at two-year institutions that offer classes transferable to universities or vocational programs in high-demand fields of work, according to The New York Times.
Obama proposes the federal government pay for 75% of the new program, with states picking up the other 25%. But he offered no specifics on where the money would come from.
The free tuition could save each student an average of $3,800 annually, according to the White House.
Obama announced the plan at a community college in Tennessee, a red state with a program called Tennessee Promise upon which the president's is modeled. The city of Chicago also has a similar program.
Despite the idea having Republican roots, Obama's plan faces a tough time gaining approval in the GOP-controlled Congress.
"With no details or information on the cost, this seems more like a talking point than a plan," Cory Fritz, a spokesman for House Speaker John Boehner (R-Ohio), told the Times.
Even members of the Obama administration admit that the plan will take a while to go into effect. "We don't expect the country to be transformed overnight, but we do expect this conversation to begin tomorrow," Cecilia Muñoz, the president's domestic policy chief, said.
California for years offered free or nearly free community college to its residents. However, the effects of Proposition 13 on the state's finances have made that program a distant memory.
-Noel Brinkerhoff, Steve Straehley
To Learn More:
Obama Plan Would Help Many Go to Community College Free (by Julie Hirshfeld Davis and Tamar Lewin, New York Times)
The Roots of Obama's Ambitious College Plan (by David Leonhardt, New York Times)
Obama Plan For Free Community College: U.S. Would Pay 75%, States 25% (by Christi Parsons, Los Angeles Times)