New Labor Dept. Rule Requires Employers to Identify Paid Anti-Union "Persuaders"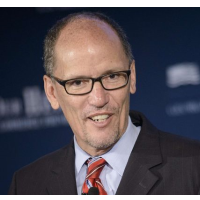 Labor Secretary Thomas Perez (photo: Brendan Smialowski, AFP/Getty Images)
By Noam Scheiber, New York Times
WASHINGTON — The Labor Department Wednesday released the final version of a rule requiring employers to disclose relationships with the consultants they hire to help persuade workers not to form a union or support a union's collective bargaining position.
The department said the rule, which will be published Thursday and apply to agreements made after July 1, is necessary because workers are frequently in the dark about who is trying to sway them when they exercise their labor rights.
"In many organizing campaigns, decisions that workers make about whether to choose to stand together are often influenced by paid consultants, or persuaders, who are hired by employers to craft the management message being delivered to workers," Labor Secretary Thomas Perez said in a call with reporters. "About 75 percent of employers hire such persuaders, and too often, workers do not know."
The 1959 law on which the regulations are based already required employers to disclose the hiring of such consultants. But the Labor Department argued that previous administrations had allowed an enormous loophole that effectively exempted consultants who coached supervisors on how to influence employees so long as the consultants didn't interact with the employees directly.
The use of consultants has proliferated since the 1970s, and the techniques they deploy to discourage workers from forming unions have become progressively more sophisticated — more akin to modern political campaigns than workplace discussions.
There are consultants "scripting what managers and supervisors say to workers," Perez said.
The new rule will require employers to disclose in government filings any consultant they hire to develop plans or policies for supervisors involved in attempting to persuade workers, who create materials that will be distributed through the workplace for this reason, and who lead seminars on how to discourage workers from forming unions or bargaining collectively.
In addition to disclosing the hiring of a consultant, the employers will have to disclose the fees involved. The consultants will also have to disclose the relationships and fees in filings of their own.
Opponents of the rule said it was a clear effort by the Labor Department to intervene on behalf of unions. "It is intended to aid organizing by tying one hand behind the back of the employer," said Marshall Babson, counsel at the law firm Seyfarth Shaw and a former National Labor Relations Board member who works with management on labor issues.
Babson argued that the fee disclosure requirement would discourage law firms from providing advice to clients, much of which, he said, involves discouraging them from making unlawful threats or promises to workers during organizing campaigns, or unlawfully interrogating them.
"It's something that tends to chill the seeking of legal advice," he said. "How is that in anyone's interest?"
But Perez and his aides said that lawyers would only have to make the relevant disclosures if they provide advice about how to discourage the formation of a union or collective bargaining. He said that advice on pure legal matters would remain uncovered by the rule. Moreover, the specific content of lawyers' discussions would be protected by attorney-client privilege and not subject to disclosure.
More broadly, they said, the rule was about restoring a measure of balance between labor and management. Department officials point out that under the original 1959 law, labor unions must disclose spending related to workplace organizing campaigns.
Paul Secunda, a professor of labor law at Marquette University Law School who recently proposed that employers who address workers during organizing campaigns be required to give union organizers a similar opportunity, said that the consultants tend to be extremely effective at creating an environment in which many workers fear for their job if they opt to form a union.
Employees should "understand that the employer is not just speaking generically in their best interest," Secunda said. "They wouldn't spend so much on persuaders if it wasn't important to keep unions out of the workplace."
To Learn More:
Anti-Union Republican Legislators Suffer Setbacks in Missouri and Idaho (by Steve Straehley, AllGov)
Did Supreme Court Create New Anti-Union Law? (by David Wallechinsky, AllGov)
General Dynamics Forces Employees on Army Base to Attend Anti-Union Meetings (by Noel Brinkerhoff, AllGov)