Anti-Union Republican Legislators Suffer Setbacks in Missouri and Idaho
Monday, September 21, 2015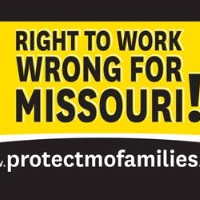 (graphic: protectmofamilies.com)
Republicans have been doing their best to kill the organized labor movement in America, passing anti-union legislation in states such as Wisconsin and Michigan that have traditionally protected their workers' right to organize.
But unions won a couple victories in their battle for survival last week. In Missouri, the Republican-dominated legislature passed a so-called "right-to-work" law that would end requirements to join a union or pay fees to a labor organization to keep a job. Such laws are often a death-knell for unions, with non-members enjoying the benefits fought for by organized labor, but not paying their fair share for representation.
The bill was vetoed by Democratic Gov. Jay Nixon and on Wednesday, the legislature failed to override Nixon's veto.
Republicans have been trying to break unions nationwide, not only because they force businesses to treat employees better and raise pay and benefit levels, but because unions are the one counterweight to the political muscle of big business.
Workers in Idaho were also given a boost last week, this time by a federal court ruling that the state could not prohibit unions from using a part of workers' wages as a subsidy to better compete for business.
Idaho passed the legislation in 2011 that would have prohibited the practice, known as "job targeting" or "market recovery." That state's attorney general warned the legislature at the time that the law would not stand up to judicial scrutiny. The Ninth Circuit Court of Appeals found (pdf) that indeed the law violated the National Labor Relations Act. "It is well settled that most of the conduct prohibited by Idaho's statue is protected by the NLRA," Judge Marsha Berzon wrote for the court.
The plaintiffs, two AFL-CIO affiliated unions, say they'll attempt to collect attorneys' fees from the state.
-Steve Straehley
To Learn More:
Missouri House Fails to Override Governor's Veto of 'Right-To-Work' Bill (by Jason Hancock, Kansas City Star)
Anti-Union Bill Fails in Missouri as GOP Loses Override Vote (by Mitch Smith, New York Times)
Ninth Circuit Upends Idaho's Anti-Union Law (by Mike Heuer, Courthouse News Service)
Idaho Building and Construction Trades Council, AFL-CIO, et al. vs. Inland Pacific Chapter of Associated Builders and Contractors, et al. (pdf)
9th Circuit Rejects Idaho's Appeal Over Invalid Anti-Union Law (by Betsy Z. Russell, Spokane Spokesman-Review)