Nation's Biggest Private Prison Operator Secretly Videotaped Attorney-Client Meetings in Kansas Prison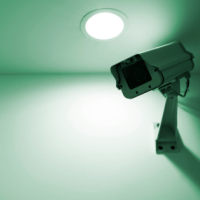 (photo: Getty Images)
By Bill Draper, Associated Press
KANSAS CITY, Kan. (AP) — Defense attorneys who represent inmates at a privately run federal prison in Kansas were livid after learning that their meetings with clients had been recorded on video, despite repeated assurances from the penitentiary that the conversations were private.
The recordings that came to light this month had no audio, but the complaints raise the question of whether nonverbal interactions such as body language or the exchange of legal documents are protected under attorney-client privilege.
"We never had any idea we were being recorded," said Laine Cardarella, a federal public defender in Missouri whose clients include detainees at the Leavenworth prison. "This has had a chilling effect."
A federal judge said the recordings might have violated the Sixth Amendment rights of hundreds of inmates and ordered them stopped.
The company that runs the prison, Corrections Corporation of America, insists that silent video recordings of inmate-attorney meetings "are a standard practice" throughout the country and are used solely to enhance the prison's safety and security.
Unlike prisons controlled by the federal Bureau of Prisons, which generally forbids any recording in attorney-client meeting rooms, private facilities set their own standards.
Concerns about prison recordings of attorney-client conversations are not necessarily new, but nobody has a real grasp of the extent of the problem, said Barry Pollack, president of the National Association of Criminal Defense Lawyers.
"I certainly hope that this sheds light on a situation that has not gotten sufficient attention and is an impetus for change," Pollack said. "Criminal defense attorneys have been aware of this problem for years, but it's a difficult one to address."
City and county jails are not governed by Bureau of Prisons policies either, he said. Several Kansas and Missouri jails that house federal prisoners have acknowledged recording attorney-inmate meetings before the judge told them to stop.
Without uniform standards in place, inmates and attorneys are subject to a patchwork of policies that sometimes threaten their privacy, Pollack said.
The recordings came to light when federal prosecutors tried to force a defense attorney off two cases using footage subpoenaed by a grand jury in a contraband probe.
The subpoena sought all surveillance footage at the prison as part of an investigation into a conspiracy involving as many as 95 inmates and 60 people outside the facility. Of the thousands of hours of video turned over to investigators, some included footage of attorneys meeting with clients.
Defense attorney Jackie Rokusek said two prosecutors told her they had video of her meeting with a client in another case, and that they intended to review it. She asked to see the video and observed not only her meeting with a client, but also footage of other attorney-client visitation going on at the time.
In court documents filed Tuesday, prosecutors said the only people who have seen that video were the defense attorney, her investigator and possibly another attorney assigned to the case. Because the recordings have no sound, they said, it's unclear whether the videos include privileged communication.
"There is very little case law on the issue of whether nonverbal interaction can be protected by the attorney-client privilege," prosecutors wrote.
U.S. District Judge Julie Robinson ordered the company and any jails holding federal detainees in Kansas and western Missouri to cease recording attorney-client conversations and to turn over any footage.
The judge said she hoped to appoint a so-called special master by mid-September who would oversee the investigation, which could cost hundreds of thousands of dollars.
In addition to reviewing the videos, investigators will look into why dozens of recorded phone calls between attorneys and their clients were provided to other lawyers representing inmates in the contraband case.
In Tuesday's filing, prosecutors said unless an inmate provides an attorney's phone number in advance or tells prison staff that a call is being placed to an attorney, there's a good chance the conversation is being recorded.
Lawyers should realize their call is being monitored if they hear a recording telling them it is, prosecutors said.
Kansas Federal Public Defender Melody Brannon called the intrusion into attorney-client privilege "unprecedented."
"We couldn't find anything even comparable to the degree of invasion and misconduct by the government that is before the court," she said.
To Learn More:
Thousands of Private Attorney-Inmate Phone Conversations in 37 States Recorded and Stored by Prison Phone Firm (by Noel Brinkerhoff, AllGov)