National Security Advisor: Who Is H.R. McMaster?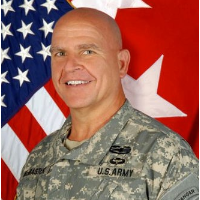 H.R. McMaster
President Donald Trump's choice to succeed Michael Flynn as national security advisor, announced February 20, 2017, was Army Lt. Gen. H.R. McMaster, a combat veteran whose positions often seem diametrically opposed to those of Flynn and, indeed, to those of Trump himself. Whereas Trump has made statements like, "Islam hates us," and Flynn stated that "Islam is a political ideology masked behind a religion," McMaster has repeatedly referred to terrorist organizations like ISIS as being un-Islamic because terrorism is a perversion of Islam.
Herbert Raymond McMaster was born July 24, 1962, in Philadelphia. His father was an Army enlisted man during the Korean War, and then was directly commissioned as a captain during the Vietnam War. McMaster's mother was a teacher. He has a sister, Letitia.
McMaster got a jump start on a military career while attending Valley Forge Military Academy, where he played football and baseball. After graduating in 1980, McMaster went on to the United States Military Academy at West Point, earning his bachelor's degree in 1984.
McMaster had initially decided to go into Army Aviation, but a flight physical revealed a previously undiagnosed astigmatism, so he went into Armor instead. His first assignment was the 2nd Armored Division at Fort Hood, Texas. In 1989, McMaster was transferred to the 2nd Armored Cavalry Division in Germany, and it was with this unit that he went to war in Operation Desert Storm.
McMaster began to build his reputation in the Battle of 73 Easting, which was named for map coordinates. McMaster led nine tanks, 12 Bradley Fighting Vehicles and 136 Cavalry troopers into battle against more than 80 tanks of the Iraqi Republican Guard. The U.S. forces routed the Iraqis without the loss of a single American tank.
Upon returning to the United States, McMaster earned an M.A. (1994) and a Ph.D. (1996) in American history from the University of North Carolina. He taught history at West Point during this period as well. His doctoral dissertation, "From Distrust to Deceit: The Joint Chiefs of Staff, Civil-Military Conflict, and Planning the Escalation of American Military Intervention in Vietnam, 1961-1964," later was turned into a 1997 book, Dereliction of Duty: Lyndon Johnson, Robert McNamara, the Joint Chiefs of Staff, and the Lies That Led to Vietnam. The dissertation and book criticized high-ranking military officers for their failure to stand up to President Lyndon B. Johnson and Defense Secretary Robert McNamara concerning their strategy for prosecuting the war. "The war in Vietnam was not lost in the field, nor was it lost on the pages of The New York Times or on the college campuses," McMaster concluded. "It was lost in Washington, D.C." He added, "The failings were many and reinforcing: arrogance, weakness, lying in pursuit of self-interest, and above all, the abdication of responsibility to the American people." McMaster's book was well-received and is now on some official military reading lists, but caused career problems for him later on.
McMaster graduated from United States Army Command and General Staff College in 1999 and then got command of 1st Squadron, 4th Cavalry Regiment. He also was a national security affairs fellow at the Hoover Institution at Stanford University from 2002 to 2003. Following that, McMaster took staff and operational jobs at U.S. Central Command, which ran the war in Iraq.
In 2005, McMaster scored another combat victory, but one that also temporarily hurt his career. In fighting against Al Qaeda in the Battle of Tal Afar, west of Mosul, near the Syrian border, McMaster used counter-insurgency techniques that included working to get the city's civilian population on the side of the American forces. McMaster, quoted by Jon Finer, who covered the battle for The Washington Post, laid out his strategy in five steps:
First, "if we go in and fight and then reduce our presence, the enemy will move to where there are insufficient security forces, because the Iraqi security forces can't withstand them yet."
Second, "you have to defeat the enemy's campaign of intimidation over the population by providing security for people who cooperate with you. You cannot allow retribution."
Third, you need to "clarify your intentions to people by developing relationships, by action, by dialogue with people and by addressing local grievances."
Fourth, "this means being out in the city. We could stay in our F.O.B. [Forward Operating Base] and eat mini pizzas and ice cream and redeploy in a year, but that won't win the war."
Fifth, "do everything you can to minimize destruction. If that happens, it's the enemy's fault. We're not booby-trapping buildings, putting explosives in the ground, sniping indiscriminately. We're fighting the people doing that. We don't want to kill this city, we want to bring it back to life."
McMaster's troops took back Tal Afar. But his unorthodox tactics had upset some of his superiors. In 2006, he left Iraq to do research at the International Institute for Strategic Studies in London, as a senior research associate. Then a colonel, McMaster was passed over twice, in 2006 and 2007, for brigadier general and he could have been forced out of the Army. However, Secretary of the Army Pete Geren brought in Gen. David Petraeus, who had been McMaster's commander, to lead a promotion board with the charge of evaluating several successful war-fighters, including McMaster. In 2008, McMaster earned his star.
He subsequently served in Afghanistan as commander of the Combined Joint Interagency Task Force and in 2012 was promoted to major general when he took over the U.S. Army Maneuver Center of Excellence at Fort Benning, Georgia. McMaster earned his current rank, lieutenant general, in 2014, when he was made deputy commanding general of the Army Capabilities Integration Center at the Training and Doctrine Command in Langley, Virginia.
McMaster showed in Tal Afar and has subsequently said that rather than taking an anti-Muslim stance, the United States should join forces with Muslim-majority countries to fight the Islamic State. Another contrast with Trump's philosophy was outlined in an April 2015 speech at the University of South Florida, when McMaster said "the military-industrial complex may represent a greater threat to us than at any time in history." McMaster also warned about military strategy think tanks that are actually funded by defense contractors.
McMaster and his wife, Kathleen Trotter, have been married since 1985. They have three daughters: Katharine, Colleen and Caragh.
-Steve Straehley
To Learn More:
H.R. McMaster Is Hailed as the Hero of Iraq's Tal Afar. Here's What That Operation Looked Like. (by Jon Finer, Washington Post)
Trump Just Hired the Army's Smartest Officer (by Fred Kaplan, Slate)
The Insurgent in the White House (by James Kitfield, Politico)
H.R. McMaster Isn't a Bigot, Making Him an Outlier on Trump's National Security Team (by Zaid Jilani and Murtaza Hussain, The Intercept)
General Dissects U.S. Approach to War in Speech at USF (by Howard Altman, Tampa Bay Times)