National Security Adviser: Who Is John Bolton?
Wednesday, April 25, 2018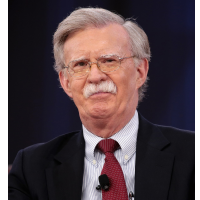 John Bolton
John Robert Bolton, who in the George W. Bush administration was recess-appointed to be ambassador to the United Nations, but more recently has been a Fox News commentator, took over April 9, 2018, as President Donald J. Trump's third national security adviser. The position does not require Senate confirmation. Bolton has described himself as a "libertarian conservative" and a "national-interest conservative."
Bolton was born in Baltimore on November 20, 1948, to Jack and Ginny Bolton. Bolton's father was a firefighter for the city of Baltimore. Bolton has said that he was early on influenced by reading Ayn Rand's Atlas Shrugged, as well as by the writings of Adam Smith, John Locke and Edmund Burke. Bolton won a scholarship to the private McDonogh School in Owings Mills, Maryland, graduating in 1966. He then went to Yale, where he earned his B.A. in 1970 and his law degree in 1974. He was a member of the Yale Young Republicans and was editor-in-chief of the Yale Conservative.
Bolton joined the National Guard in 1970 and finished his enlistment with the Army Reserve from 1974 to 1976. Although Bolton is now known as a war hawk, he wasn't interested in serving in Vietnam. "I confess I had no desire to die in a Southeast Asian rice paddy. I considered the war in Vietnam already lost," Bolton wrote in his Yale 25th reunion book. He also served as an intern to fellow Baltimorean Vice President Spiro Agnew in 1972.
In 1978, Bolton worked on the campaign of James Baker III when Baker ran unsuccessfully for Texas attorney general. Baker's campaign manager was future U.S. president George H.W. Bush. Baker himself later became U.S. secretary of state and chief of staff when Bush was president. These connections would set the stage for Bolton's political career.
After earning his law degree, Bolton found work as an associate for the law firm Covington and Burling. In 1981, he joined the Ronald Reagan administration as general counsel for the U.S. Agency for International Development (USAID). Two years later, he was named the agency's assistant administrator for program and policy coordination. Bolton returned to Covington and Burling—as a partner—later in 1983. Among his clients was General Dynamics, whom he represented during an investigation by the Securities and Exchange Commission (SEC) of cost overruns regarding nuclear submarine construction and misleading of shareholders. He also defended the National Congressional Club, a conservative political action committee led by Sen. Jesse Helms, (R-North Carolina) against Federal Election Commission complaints that charged the club was funneling illegal campaign contributions through a subsidiary, Jefferson Marketing Inc. The Club eventually settled for a minor fine.
Bolton returned to the federal government, this time to the Justice Department, in 1985 as assistant attorney general for legislative affairs, and then beginning in 1988 as assistant attorney general for civil rights. While at Justice, Bolton played a key role in stonewalling Congress on its efforts to investigate the Iran-Contra affair, in which Reagan authorized the sale of arms to Iran, then under an embargo, to make money to fund the Contras fighting against the Nicaraguan government. Both parts of the deal were prohibited by U.S. law. For example, he argued that the law allowing the creation of independent counsels, such as the one that investigated the Iran-Contra affair, was unconstitutional because it violated the separation of powers.
In 1989, Bolton was moved over to the State Department by the George H.W. Bush administration as assistant secretary for International Organization Affairs. In this position, he was the administration's main liaison to the United Nations. He would later explain, "One thing I learned was that to have a maximum impact on policy, it's important to go into bureaucracies that don't initially seem to be very friendly places….I knew immediately that I wanted to go to the State Department, because that was the place needing the greatest degree of change."
When the Bush administration was sent packing in 1993, Bolton joined a law firm that eventually became Lerner, Reed, Bolton and McManus. In 1994, he received $30,000 from the government of Taiwan to lobby on their behalf despite the U.S. government's policy of opposing independence for Taiwan.
In addition to his law practice, Bolton was a senior fellow at the right-wing Manhattan Institute and was an adjunct professor at George Mason University School of Law. In 1997, he was named a senior vice president at the conservative American Enterprise Institute (AEI).
As have many in the Trump orbit, Bolton has experienced some financial controversies. In 1995 and 1996, Bolton served as president of the National Policy Forum (NPF). A 1996 Senate investigation showed that NPF was helping move foreign money into U.S. elections via the Republican National Committee (RNC). From the minority report:
(1) RNC Chairman Haley Barbour and the RNC intentionally solicited foreign money for the NPF.
(2) The NPF was an arm of the RNC and, as the Internal Revenue Service concluded, was not entitled to tax-exempt status as a social welfare organization under section 501(c)(4) of the U.S. tax code.
(3) Barbour solicited Ambrous Young, a foreign national, and Young agreed to provide the collateral for a loan to NPF for the purpose of helping Republican candidates during the 1994 elections.
(4) The evidence before the Committee strongly supports the conclusion that Barbour and other RNC officials knew that the money used to collateralize the NPF loan came from Hong Kong. Barbour's testimony that he did not know about the foreign source of the loan collateral was not credible.
(5) As a result of NPF's default on the loan, the RNC improperly retained $800,000 in foreign money during the 1996 election cycle.
Bolton continued his work with AEI until after the 2000 presidential contest. As part of the post-election George W. Bush legal team in 2000, Bolton worked to stop the recount of ballots in Florida that, if completed, would likely have made Al Gore president instead of Bush. At one point, on December 9, Bolton rushed into a Tallahassee library where officials were counting votes and declared, "I'm with the Bush-Cheney team, and I'm here to stop the vote."
As a reward Bolton was named under secretary of state for arms control and international security affairs. Among his notable achievements in that post were the withdrawal of the U.S. from the International Criminal Court; and claiming without supporting evidence that Cuba was running a biological weapons program. Bolton attempted to cherry-pick intelligence to back his assertion about Cuba. "We all agreed that what Bolton wanted to say was exaggerating to the point of cooking the intelligence," senior Central Intelligence Agency analyst Fulton Armstrong said, according to ProPublica. "No one ever stated that Bolton did not have the right to put out any judgment he wanted. Our position was you can say whatever you want, but don't use us to validate it." Bolton later tried to get the CIA to remove Armstrong, who was serving as national intelligence officer for Latin America, from his post.
Another Bolton misstep came when he referred to then-North Korean President Kim Jong Il as the "tyrannical dictator" of a country where "life is a hellish nightmare." Although this was true, the comment caused Kim to refuse to deal with Bolton and the U.S. had to send another representative to the six-party talks concerning North Korea.
In 2001. Bolton was instrumental in disrupting implementation of the 1972 Biological Weapons Convention that banned the production and use of biological weapons, claiming that it endangered U.S. national security by allowing spot inspections of suspected U.S. weapons sites.
In February 2003, Bolton visited Israel and, according to Ha'aretz, told government officials that "America will attack Iraq, and that it will be necessary to deal with threats from Syria, Iran and North Korea afterwards." After the U.S. invasion and occupation of Iraq, Bolton convinced 70 foreign governments to exempt the United States from prosecution by the International Criminal Court for war crimes.
Bush nominated Bolton in 2005 to be the ambassador to the United Nations, which he would later describe as "an instrument for helping to advance U.S. policy." However, Bolton didn't have enough support to overcome a Democratic filibuster in the Senate and the nomination was denied. Bush then made a recess appointment of Bolton to represent the United States to a body about which Bolton said in 1994, "The Secretariat Building in New York has 38 stories. If you lost 10 stories today it wouldn't make a bit of difference. The United Nations is one of the most inefficient inter-governmental organizations going." Bush renominated Bolton to the UN post in 2006 but it went nowhere. At the end of the 109th Congress that year, when Bolton's recess appointment expired, he left the UN.
Bolton then returned to AEI as a senior fellow, served as chairman of the neoconservative Gatestone Institute and worked as a commentator on Fox News, taking potshots at the Barack Obama administration, particularly in the area of foreign policy. He has urged pre-emptive war against North Korea to keep it from launching nuclear weapons on the United States or its allies. He has also urged Trump to withdraw from the Iran nuclear agreement and work toward overthrowing the Tehran government.
In 2013, Bolton founded the John Bolton Political Action Committee (PAC), which the following year contributed to the Congressional campaigns of 89 Republican candidates. In 2016, it contributed to the campaigns of 91 Republicans. He also founded the Bolton for America Super PAC, later known as the John Bolton Super PAC. Bolton's PACs were heavily supported by hedge fund billionaire, Robert L. Mercer, who contributed $5 million to them between 2014 and 2016. The Super PAC was one of the first clients of data research firm Cambridge Analytica, in which Mercer invested $15 million. According to Christopher Wylie, the head of data harvesting at Cambridge Analytica, "The Bolton PAC was obsessed with how America was becoming limp-wristed and spineless and it wanted research and messaging for national security issues. That really meant making people more militaristic in their worldview."
Between them, Bolton's two PACs had about $3.2 million in their accounts when Bolton took over as National Security Adviser.
Bolton and his first wife, Christine, married in 1972 and divorced in 1983. Bolton married his second wife, Gretchen Smith, on January 24, 1986. They have a daughter, Jennifer.
-Steve Straehley, David Wallechinsky
To Learn More:
John Bolton Skewed Intelligence, Say People Who Worked with Him (by Sebastian Rotella, Pro Publica)
Bolton Was Early Beneficiary of Cambridge Analytica's Facebook Data (by Matthew Rosenberg, New York Times)
Trump Names Former Ambassador John Bolton as His New National Security Adviser (by Greg Jaffe and Josh Dawsey, Washington Post)
John Bolton: The Essential Profile (by Mitchell Plitnick, Lobe Log)
Interview with Adam Garfinkle (American Interest)
The Nomination of John R. Bolton to Be U.S. Representative to the United Nations (109th Congress)
You Don't Have to be Jewish to be a Neocon: John Bolton and James Woolsey (by Richard H. Curtiss, Washington Report on Middle East Affairs)
North Korea Won't Recognize State Dep't. Ideologue (by Jim Lobe, Inter Press Service)
Investigation of Illegal or Improper Activities in Connection With 1996 Federal Election Campaigns (Senate Committee on Governmental Affairs