Most Women with Private Health Insurance no Longer have to Pay for Contraception
Saturday, September 20, 2014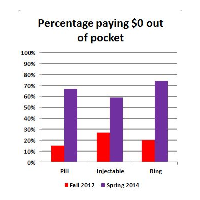 (graphic: Steve Straehley, AllGov)
Supporters of Obamacare have something to crow about: Since the implementation of the federal healthcare law, access to free birth control has soared for women.
A new study produced by the Guttmacher Institute says the rate of women receiving contraception through their private health insurance at no cost to them jumped from 15% in 2012 to 67% by the spring of this year. The Affordable Care Act included a provision that required companies to include contraception coverage in their health plans.
"That these benefits continue to accrue so quickly is remarkable, and shows that the contraceptive coverage guarantee is meeting a real demand," Adam Sonfield, a Guttmacher senior public policy associate and lead author of the study, said in a statement. "Its impact will only continue to grow as its protections are phased in."
About 26% of people are still on "grandfathered" insurance plans that were in effect before the Affordable Care Act became law. Those plans don't have to offer free birth control, so the number of women who receive no-cost contraception should increase as they leave those older plans.
In a separate development, legislation introduced in both the Senate and the House of Representatives would guarantee free birth control to three million women covered by the TRICARE program that insures active-duty service members and military dependents.
-Noel Brinkerhoff
To Learn More:
Impact of the Federal Contraceptive Coverage Guarantee on Out-Of-Pocket Payments for Contraceptives: 2014 Update (by Adam Sonfield, Athena Tapales, Rachel K. Jones and Lawrence B. Finer, Contraception) (pdf)
Millions Of Women Don't Have To Pay A Dollar When They Pick Up Their Birth Control (by Tara Culp-Pressler, Think Progress)
All Women Enrolled in TRICARE Would Have Access to Free Birth Control Under Bill (by Kellie Lunney, Government Executive)
Obama Adjusts Health Care Rules to Supreme Court Hobby Lobby Ruling (by Steve Straeley, AllGov)
Obama Administration Orders Insurers to Cover Contraceptives (by Matt Bewig, AllGov)