Majority of Federal Appeals Court Judges Appointed by Democratic Presidents for First Time in more than 10 Years
Tuesday, September 16, 2014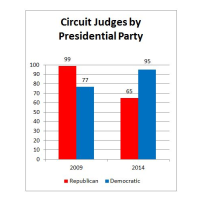 (graphic: Steve Straehley, AllGov)
What President Barack Obama has failed to accomplish in Congress, he has made up for on the federal bench, and in doing so, created a legacy that could last a generation.
Five years ago, Republican-appointed judges dominated the federal appeals courts, with 99 seats compared to 65 held by those selected during Democratic administrations. Now, those numbers have flipped. Judges nominated by Democrats total 95, thanks in significant part to Obama's selections since taking office in 2009. Republican-appointed circuit judges total 77, according to the Brookings Institution. The last time Democratic appointees were in the majority was in 2000.
"Democratic appointees who hear cases full time now hold a majority of seats on nine of the 13 United States Courts of Appeals," Jeremy Peters wrote for The New York Times. "When Mr. Obama took office, only one of those courts had more full-time judges nominated by a Democrat."
Peters added that the reversal represents "one of the most significant but unheralded accomplishments of the Obama era" and 'is likely to have ramifications for how the courts decide the legality of some of the president's most controversial actions on health care, immigration and clean air. Since today's Congress has been a graveyard for legislative accomplishment, these judicial confirmations are likely to be among its most enduring acts."
Senator Charles Schumer (D-New York), who last summer fought Republican obstructionism to get three of Obama's nominees approved for seats on the D.C. Court of Appeals, told the newspaper that the switch from GOP to Democratic dominance on the bench "will affect America for a generation, long after the internecine battles on legislative issues are forgotten."
The number of Obama-appointed judges has soared since Senate Democrats last year changed the rules on filibustering judicial appointments to make it harder for the Republican minority to block confirmation votes.
-Noel Brinkerhoff
To Learn More:
Building Legacy, Obama Reshapes Appellate Bench (by Jeremy Peters, New York Times)
How Many Judicial Confirmations Are Due to the Filibuster Rules Change? (by Russell Wheeler, Brookings Institution)
Judgeship Appointments by President (United States Courts)
Ninth Circuit has Full Set of Judges for First Time in 22 Years (by Noel Brinkerhoff, AllGov)
Federal Judge Nominee Finally Gets a Confirmation Hearing after Waiting 2½ Years (by Noel Brinkerhoff and Danny Biederman, AllGov)