Majority in European NATO Countries Not Willing to Defend an Ally under Russian Attack … But Everyone is counting on U.S. Protection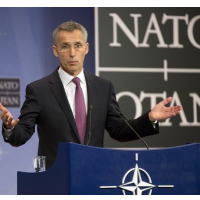 NATO Secretary General Jens Stoltenberg (AP photo)
Although membership in the North Atlantic Treaty Organization requires countries to go to the aid of a fellow member in case of attack, only a minority of Europeans would endorse military action by their country in such a situation.
A new Pew Research Center study found only 48% of Europeans support NATO's Article 5 provision that says if one member nation is attacked, the alliance must stand together and help that country. Even fewer—only 41%—support sending arms to Ukraine to fight off Russian aggression.
The survey found 68% of respondents said they think the U.S. is likely to come to an ally's defense. Those with that view have company across the Atlantic: 56% of Americans believe the United States should use military force to help a NATO ally.
"Our data shows that Germans, French and Italians have little inclination to come to a NATO ally's defense," Bruce Stokes, the director for global economic attitudes at the Pew Research Center, told The New York Times, "and if the next military conflict in the region is hybrid warfare, and there is some debate who these Russian-speaking fighters are, such attitudes will only further inhibit NATO's response."
-Noel Brinkerhoff, Steve Straehley
To Learn More:
NATO Publics Blame Russia for Ukrainian Crisis, but Reluctant to Provide Military Aid (by Katie Simmons, Bruce Stokes and Jacob Poushter, Pew Research Center)
For Europe's NATO Allies, Attack On One Isn't Attack On All (by Craig Winneker, Politico)
Survey Points to Challenges NATO Faces Over Russia (by Michael Gordon, New York Times)
U.S. is Obligated by Treaty to Defend 67 Foreign Countries (by Steve Straehley, AllGov)
Defense Secretary Gates Attacks NATO's Pacifism (by Noel Brinkerhoff, AllGov)