Lockheed Used Taxpayer Money to Lobby for more Taxpayer Money
Saturday, November 15, 2014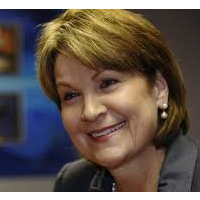 Lockheed CEO Marillyn Hewson (photo: Getty Images)
In the world of federal contracting, it takes taxpayer dollars to win more taxpayer dollars, or at least that's how Lockheed Martin sees things.
Lockheed Martin for years has been running one of the government's most important nuclear research facilities, Sandia National Laboratories. Five years ago, its lucrative contract with the Department of Energy (DOE) was coming to an end, so Lockheed Martin started to lobby officials to win an extension.
That lobbying included using some of the money paid by DOE for Lockheed Martin to run Sandia. Under federal law, this is a big no-no. Contractors are explicitly forbidden from using taxpayer money to lobby for more contracting work. But Lockheed Martin did it anyway, claiming they were just trying to better inform DOE managers when it came time to decide whether to give them another contract. The company hired a firm run by former Republican Congresswoman Heather Wilson to make its case.
"This is, after all, how Washington usually functions," R. Jeffrey Smith wrote at the Center for Public Integrity.
The Energy Department's inspector general, Gregory Friedman, said in a report (pdf) that Lockheed Martin broke the rules. He called the company's actions "highly problematic" and "impermissible."
Lockheed Martin did get a new deal, but it was for two years and $7.7 billion. It had sought a longer extension to keep running Sandia.
-Noel Brinkerhoff
To Learn More:
Alleged Attempts by Sandia National Laboratories to Influence Congress and Federal Officials on a Contract Extension (Department of Energy Inspector General) (pdf)
Nuclear Weapons Lab Used Taxpayer Funds To Obtain More Taxpayer Funds (by R. Jeffrey Smith, Center for Public Integrity)
IG: Energy Contractor and Ex-Lawmaker Lobbied Officials for No-Bid Contract Worth $2.4 Billion Per Year (by Josh Hicks, Washington Post)
Violence in Iraq Means Profits for Beechcraft, Lockheed, Raytheon and other Weapons Makers (by Steve Straehley, AllGov)