Like the Introduction of Cable TV, Social Media Cuts off People from Those with Opposing Ideas
Thursday, August 28, 2014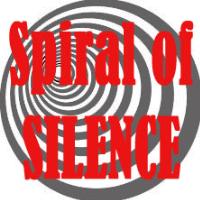 (graphic: Steve Straehley, AllGov)
Social media may bring large numbers of people together, but it doesn't necessarily encourage open discourse and sharing of opposing views.
The Pew Research Center and Rutgers University say Twitter, Facebook and similar platforms cause people to suppress their opinions when they perceive their friends think otherwise.
This "spiral of silence," researchers say, extends into the real world among those who spend a lot of time using social media. As a result, the Internet is only helping polarize the United States even further, as Americans interact mostly with those who share their beliefs, much as television viewers tend to watch cable news channels that reinforce their principles.
"People who use social media are finding new ways to engage politically, but there's a big difference between political participation and deliberation," Keith Hampton, an associate professor of communication at Rutgers and an author of the study, told The New York Times. "People are less likely to express opinions and to be exposed to the other side, and that's exposure we'd like to see in a democracy."
The researchers conducted a survey about the Edward Snowden surveillance revelations and whether respondents were willing to share their thoughts on the subject with friends in person or online.
With Facebook, the researchers found that users were nearly twice as likely to join a discussion if their friends had the same viewpoints. "Interestingly, those with less education were more likely to speak up on Facebook, while those with more education were more likely to be silent on Facebook yet express their opinion in a group of family or friends," the Times''s Clarie Cain Miller wrote.
-Noel Brinkerhoff
To Learn More:
Social Media and the 'Spiral of Silence' (by Keith Hampton, Lee Rainie, Weixu Lu, Maria Dwyer, Inyoung Shin and Kristen Purcell, Pew Research Internet Project)
How Social Media Silences Debate (by Clarie Cain Miller, New York Times)