Liberia's Ambassador to the United States: Who Is Lois Brutus?
Monday, February 05, 2018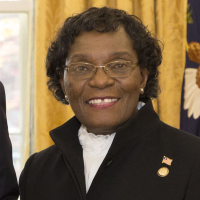 Lois Brutus
Lois Cheche Lewis Brutus, a longtime member of her country's foreign service and a champion for women's rights, presented her credentials to President Donald Trump as Liberia's ambassador to the United States on November 29, 2017, after being appointed to the post the previous April and officially commissioned on November 3.
Brutus and her siblings were raised by parents Etta Cecelia Toby Lewis and Joseph Emmanuel Lewis. Her uncle, Monsignor Robert G. Tikpor, was priest emeritus of the Catholic Church of Liberia. Brutus attended the University of Liberia, where she earned a B.A. in political science in 1973. She went on to earn an LL.B. from the Louis Arthur Grimes School of Law in Liberia in 1976.
Brutus has served in Liberia's foreign service for more than 20 years, starting as a cadet and working her way up to be senior legal counsel, and then ambassador. In 2006, she was appointed ambassador to South Africa with responsibility for Angola and Namibia.
"We arrived in June 2007 at post with absolutely nothing on the ground," Brutus said at her November 1, 2017, commissioning ceremony, recalling her arrival in South Africa as Liberia's ambassador. "What was masquerading as an embassy was an empty hall with three chairs, two desks and a computer located on the top of the Shell gas station on Dey Street, Pretoria. We commenced our move, walking the streets with two other staff members searching for an appropriate location for our representation as we were told that our security could not be guaranteed at the present location. An appropriate Chancery location at 1157 Francis Baard Street, Pretoria, was found before the presentation of our credentials within two months."
Also that year, Brutus successfully advocated for a tougher rape law in Liberia. The new legislation, adopted on January 17, 2006, added penetration by any foreign object to the definition of rape; established that those under the age of 18 could not legally consent to intercourse; and established a punishment of life imprisonment for gang rape.
Brutus' other assignments include working as child fighter coordinator at the United Nations observer mission in Liberia and in the Children Assistance Program as project coordinator for the USAID war affected youth program.
Brutus is a founding member and former president of the Association of Female Lawyers of Liberia. The organization was established in 1994 to offer legal defense for vulnerable women and children who may have suffered extended violence.
At her 2017 commissioning ceremony, Brutus shared her thoughts about her appointment as ambassador to the U.S. with those in attendance, including Liberian President Ellen Johnson Sirleaf. "Permit me to state for those who have been consumed about the timing of my appointment," Brutus said. "I stand here to state that should this new mission of mine to Washington, D.C., last for only four months or four years, I am not a bit disturbed… We will repeat what we have been doing over the past 10 years in the field of diplomacy, which is making friends and influencing people for the mutual benefit for both peoples of the Republic of Liberia and the United States of America."
Brutus and her husband, Dr. Pierre Brutus, have two children—Amalita and Patrick.
-Danny Biederman, Steve Straehley
To Learn More:
Lois Brutus Appointed Liberia's Ambassador to United States (Front Page Africa)
Ellen Commissions New US Ambassador (New Republic Liberia)
Zero Tolerance for Liberian Rapists (by Lois Brutus, Forced Migration Review)