Less than 1% of Patriot Act's "Sneak and Peek" Delayed Notice Warrants are Used against Terrorism
Tuesday, October 28, 2014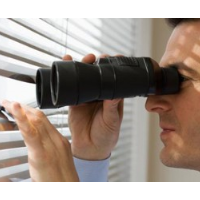 (photo: Getty Images)
Federal law enforcement has increasingly used a key provision of the Patriot Act (pdf) to pry into people's lives without having to tell them. This practice has been justified under the guise of counterterrorism, but government statistics show that less than 1% of all "sneak and peek" actions involve suspected terrorists.
Under section 213 of the Patriot Act, law enforcement agencies can carry out sneak-and-peek warrants, which allow agents to "secretly enter, either physically or virtually; conduct a search, observe, take measurements, conduct examinations, smell, take pictures, copy documents, download or transmit computer files, and the like; and depart without taking any tangible evidence or leaving notice of their presence." Suspects can be informed of the search later.
The provision was added to the Patriot Act because, the FBI claimed, it was important not to tip off terrorism suspects during cases.
But the Electronic Frontier Foundation (EFF) found after reviewing reports released by the Administrative Office of the U.S. Courts that only 51 sneak-and-peek requests during 2013 were for terrorism out of 11,129 total requests that year. The biggest reason for the warrants was to investigate drug crimes (9,401 requests), EFF reported.
"The numbers vindicate privacy advocates who urged Congress to shelve Section 213 during the Patriot Act debates," Mark Jaycox at EFF wrote. "Proponents of Section 213 claimed sneak and peek warrants were needed to protect against terrorism. But just like we've seen elsewhere, these claims are false."
-Noel Brinkerhoff
To Learn More:
Peekaboo, I See You: Government Authority Intended for Terrorism is Used for Other Purposes (by Mark Jaycox, Electronic Frontier Foundation)
Myth v. Reality (U.S. Department of Justice)
From "Sneak and Peek" To "Sneak and Steal": Section 213 of the USA Patriot Act (by Brett Shumate) (pdf)