Lawsuit Claims Wyoming's Data Trespass Law Protects Violators of Environmental Laws
Wednesday, October 28, 2015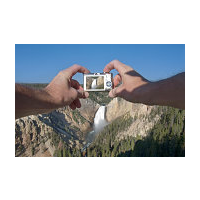 An illegal photo being taken of a Wyoming waterfall? (photo: Karl Weatherly, Getty Images)
The state of Wyoming is being sued over its new Data Trespass Law, with the plaintiffs claiming it violates the First and Fourteenth amendments to the Constitution.
The law, passed earlier this year, prohibits gathering of data—including photographs—on "open land" without statutory authorization or explicit permission that is submitted or intended to be submitted to a government agency.
The "open land" provision includes anything that's not in a city, town or subdivision. Thus, it makes it technically illegal to take a photo for submission to a state-owned magazine.
The law's authors aren't worried about that, of course. They wrote it to prevent environmental groups from taking soil and water samples that might prove that ranchers are allowing their cattle to pollute streams.
"These Wyoming laws are designed to stop whistleblowers from being able to enforce the environmental laws in Wyoming," Leslie Brueckner, a senior attorney at Public Justice, a public interest law firm that has challenged ag-gag laws in other states, told ThinkProgress. "Like the classic ag-gag statutes that we're challenging in Idaho, this law directly infringes on the ability of whistleblowers and other advocates to speak freely under the First Amendment and also to expose wrongdoing in the agriculture industry."
The claims for violation of the Fourteenth Amendment come in because it singles out a particular group—environmentalists trying to protect Wyoming's lands. The suit is being brought by the National Press Photographers Association; Western Watersheds Project, which has been criticized for its controversial water-sampling efforts aimed at showing cattle contaminate streams with E. coli; the Natural Resources Defense Council; People for the Ethical Treatment of Animals; and Center for Food Safety.
That the law prohibits data gathering on public lands makes it even more insidious. "It appears to clearly apply to both private and public land," Brueckner said. "This is like trespass on steroids. These laws, they don't merely prohibit data collection. What they criminalize is data collection for the purpose of submitting the information to the state and federal government, and that's what's so bizarre and over the top about these laws. They specifically target activity that is unarguably legitimate."
The website WyoFile has even encouraged readers to submit photos taken on public lands in the state that are illegal under the law. But be careful about pulling out those selfies you took at Yellowstone—you could find yourself in front of a judge.
-Steve Straehley
To Learn More:
Lawsuit Challenges Constitutionality of Data Trespass Laws (by Gregory Nickerson, WyoFile)
Wyoming Made It Illegal To Take A Photo Of A Polluted Stream. Now They're Being Sued For It. (by Natasha Geiling, ThinkProgress)
WyoFile Showcases Potentially Illegal Photos of Wyoming (WyoFile)
Trespassing to Collect Data Act (State of Wyoming)
Wyoming Criminalizes taking Soil Samples and "Ecological" Photos on Public Lands (by Noel Brinkerhoff and Steve Straehley, AllGov)