Big Fast-Food Chains Pay So Little, Employees Use Billions in Welfare Benefits
Thursday, October 17, 2013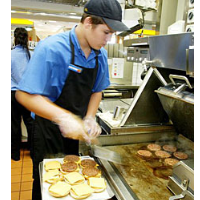 (AP Photo)
Having a job in the American fast-food industry means relying on billions of dollars in government welfare due to the fact that employees' wages are so low, according to two new studies.
Economists at the University of California and University of Illinois reported in their study (pdf) that over a four-year period (2007-2011), millions of fast-food workers received at least $7 billion a year in welfare support.
"The median wage for these workers is $8.65 an hour," Ken Jacobs, a study coauthor and chair of the UC Berkeley Center for Labor Research and Education, told AlterNet. "Only 13 percent have health benefits through their employer. The combination of low wages, meager benefits and often part-time hours means that many of the families of fast-food workers must rely on taxpayer-funded safety net programs to make ends meet."
Companies like McDonald's and others provide low wages despite collecting billions of dollars annually in profits. The 10 biggest chains cleared $7.44 billion last year, according to a report from the National Employment Law Project (NELP).
These 10 chains employee 2.25 million workers, and account for "nearly 60 percent, or $3.8 billion, of the almost $7 billion in public costs associated with their low-wage, no-benefit business model," NELP said.
More than half of the families of fast-food workers "are enrolled in one or more public programs, compared to 25 percent of the workforce as a whole," according to the academics' report. It also noted that 26% of the workers are parents, and 42% are older than 18.
McDonald's employees, who number 700,000 in the U.S., collected $1.2 billion in public assistance, the most of any fast-food chain.
The 10 largest fast-food chains are McDonald's, Yum Brands (Pizza Hut, Taco Bell, KFC), Subway, Burger King, Wendy's, Dunkin' Donuts, Dairy Queen, Little Caesars, Sonic, and Domino's.
-Noel Brinkerhoff
To Learn More:
Fast-Food Giants Make Billions While Their Workers Use Billions In Welfare Benefits (by Steven Rosenfeld, AlterNet)
Fast Food, Poverty Wages: The Public Cost of Low-Wage Jobs in the Fast-Food Industry (by Sylvia Allegretto, Marc Doussard, Dave Graham-Squire, Ken Jacobs, Dan Thompson and Jeremy Thompson; UC Berkeley Labor Center) (pdf)
Super-Sizing Public Costs: How Low Wages at Top Fast-Food Chains Leave Taxpayers Footing the Bill (National Employment Law Project)
McDonald's Employee Arrested after Complaining to Company President about Low Wages (by Noel Brinkerhoff, AllGov)
With a Straight Face, McDonald's Advises Employees how to Make the most of Their Meager Pay (by Noel Brinkerhoff, AllGov)