Kiribati's Ambassador to the United States: Who Is Teburoro Tito?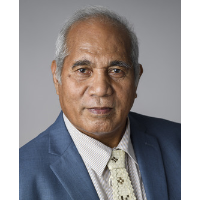 Teburoro Tito
Teburoro Tito, who previously won three terms as president of the Pacific island nation of Kiribati (population 118,000), presented his credentials to President Donald Trump as his country's ambassador to the United States on January 24, 2018. Since September 2017, Tito has also been serving as Kiribati's representative to the United Nations.
Tito was born August 25 in 1952 or 1953 (sources differ) in Tanaeang Village on Tabiteuea North Island in what was then the Gilbert Islands. He attended St. Joseph's College in Abaiang, Kiribati and earned a B.S. from the University of the South Pacific in 1977, along with a graduate certificate in education in 1979.
Tito was an educator before becoming a politician, and he was known as an organizer of soccer tournaments. He was chair of the Kiribati Football Association from 1980 to 1994. Starting as a scholarship officer, he served as senior education officer from 1983 to 1987. As the secretary of the Christian Democratic Party, he was elected to the Kiribati parliament in March 1987 and first ran for president two months later. He lost a spirited race 10,700 to 8,100 to the incumbent, Ieremia Tabai. He served as opposition leader until 1990 and deputy leader until 1994. Tito was finally elected president in September 1994. In Kiribati, three or four presidential nominees are chosen by the parliament and voted on by the public.
In 1995, Tito adjusted the International Date Line so that the entire nation would be on one side of it, and as a bonus, would make Kiribati the first country to be able to celebrate the new year in 2000. In 1995, Tito proposed a plan to sell Kiribati special non-citizen passports to foreigners for $15,000 each, upping the price to $20,000 the following year in exchange for the right to develop remote Kanton Island (population 100).
Tito was reelected twice, in 1998 and 2002, for the maximum three allowable terms. However, he lost a vote of confidence in the parliament three months after his 2002 election and was turned out of office. Two controversies contributed to the loss. The first was the existence of a Chinese tracking station in Kiribati. The Chinese said the tracking station was designed to monitor their satellites, but some believe it was used to track U.S. missiles at the nearby Kwajalein Missile Range in the Marshall Islands. The second controversy was the lease of an ATR-72 turboprop airliner that cost the government $8 million in six months.
Tito continued to serve in parliament until he was named ambassador. Recently, Tito has endorsed a plan whereby members of a Russian monarchist party would buy three Kiribati islands as a site to revive the Romanov empire. Tito said it would be good for tourism.
In 1997, Tito described the threat to small island nations caused by climate change-related rising tides this way: "It's like little ants making a home on a leaf floating on a pond. And the elephants go to drink and roughhouse in the water. The problem isn't the ants' behavior. It's a problem of how to convince the elephants to be more gentle."
Tito's wife, Keina, works to maintain indigenous traditions in the islands. They have one child and one grandchild.
-Steve Straehley, David Wallechinsky
To Learn More:
An Interview with the President of Kiribati, Teburoro Tito (by Robert Rowe, The Courier)
Russian Plan in Kiribati Finds Support "in Principle" (Radio New Zealand)