Justice Dept. Investigates Airline Price Fixing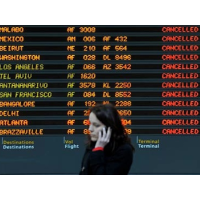 (photo: Pascal Le Segretain, Getty Images)
Possible collusion among the nation's four top airlines to keep airfares artificially high is being investigated by the U.S. Department of Justice (DOJ).
The Associated Press (AP) reported that federal prosecutors sent out letters to the four airlines demanding copies of all communications during the past five years that they had exchanged with each other, as well as with major shareholders and various Wall Street analysts. Some of the communications being sought pertain to seat availability and the adding of new flights and routes.
The DOJ is also requesting data on each airliner's passenger capacity, in total and by region since 2010, according to AP.
The Justice Department would say no more than that it is looking into potential "unlawful coordination" among some airlines, but AP believes its focus is on whether the airlines illegally communicated about their pattern of adding new flights and routes, as well as the limiting of seats, which could be used to maintain high airfares.
News organizations confirmed that the Justice Department letters had been received by American Airlines, Delta Air Lines, Southwest Airlines and United Airlines. Each of the companies, which collectively are said to control more than 80% of the seats in the domestic travel market, claimed to be complying with the federal request.
Smaller carriers, including JetBlue Airways and Frontier Airlines, were not contacted by the government.
The Justice investigation was launched at the request of Senator Richard Blumenthal (D-Connecticut) after he heard that airlines had publicly discussed capacity early last month in Miami at the International Air Transport Association's annual meeting.
During the past two decades, the Justice Department has had several run-ins with the airline industry over alleged price-fixing. The airlines paid hundreds of millions of dollars in settlements in those cases.
-Danny Biederman, Noel Brinkerhoff
To Learn More:
US Probing Possible Airline Collusion That Kept Fares High (by David Koenig, Scott Mayerowitz and Eric Tucker, Associated Press)
Justice Department Probes Airlines for Collusion (by Jack Nicas, Brent Kendall and Susan Carey, Wall Street Journal)
House of Representatives Votes to Allow Airlines to Hide Taxes and Fees when Advertising Flight Prices (by Noel Brinkerhoff and Steve Straehley, AllGov)