Justice Department to Ban Religious, Ethnic and Sexual Profiling by Federal Law Enforcement
Wednesday, October 01, 2014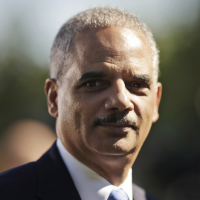 Eric Holder (photo: Pablo Martinez Monsivais, AP)
Attorney General Eric Holder may have announced his resignation, but that doesn't mean he's mailing in his final days on the job. On the contrary, the Department of Justice is now preparing a major policy change that will forbid federal law enforcement from profiling based on religion, ethnicity or sexual orientation.
The Los Angeles Times reports that the new guidelines, to be announced within the next few weeks, will not contain an exemption for terrorism or other national security cases despite pressure from national security officials and others in the Obama administration for one. "Advocates of the new policy said they were surprised because the debate over the national security exemption had blocked movement for months," the Times' Timothy Phelps reported.
If the policy is formally adopted, it will prevent federal law enforcement officials from targeting members of any religious group without first uncovering some indications that they have broken the law or are planning to do so. However, informants can still be recruited based on their religion or ethnicity and the profiling ban applies only to federal officials, not to local or state law enforcement agencies.
Farhana Khera, executive director of Muslim Advocates, supported even more restrictions on profiling but is pleased the policy is changing. "After 9/11 the pendulum has swung too far," she told CNN, citing experiences of Muslims who are questioned at ports of entry. "There's been a pattern of incidents in recent years," she said.
-Noel Brinkerhoff
To Learn More:
Justice Department to Ban Profiling by Federal Law Enforcement (by Timothy M. Phelps, Los Angeles Times)
Justice Department to Expand Ban on Profiling (by Evan Perez, CNN)
Racial Profiling Not Always Racist: Walter E. Williams (by Noel Brinkerhoff, AllGov)