IRS Employees Say they are Unfairly Blamed for Deteriorating Service Caused by 5 Straight Years of Budget Cuts
Wednesday, April 08, 2015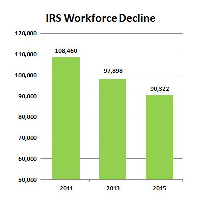 (graphic: Steve Straehley, AllGov)
Employees at the Internal Revenue Service (IRS) are fed up with being blamed for delays in service that they say are the result of budget cuts.
The IRS has endured five consecutive years of budget cuts that have stripped $1.2 billion from the agency's operations. The cuts have forced the IRS to eliminate more than 18,000 full-time and seasonal positions while it has had to deal with a growing number of taxpayers filing returns and new responsibilities created by the Affordable Care Act.
The loss of so many employees has meant longer lines and longer waits on the phone for taxpayers trying to get help from the IRS about their taxes. The resulting frustration has been unfairly directed at IRS workers, according to their labor representative, the National Treasury Employees Union.
Those manning taxpayer assistance centers have informed their union reps that they "get yelled at, have papers thrown at [them], and are spoken down to [because] the demand is too high for the resources available," union President Colleen Kelley told reporters in a conference call.
At one center in Pittsburgh, staffing is so poor that fewer than 40% of calls are answered.
"That's a horrible percentage, and it certainly does not instill confidence in the federal government," an employee told union officials, according to Kelley.
The union leader also said that workers at the taxpayer assistance center in Van Nuys, California, have reported taxpayers being frustrated from standing in line and are "sore from sitting, hungry because there's no food, thirsty because our water fountain is disgusting, and usually end up with parking tickets."
The funding cuts have been pushed in large part by Congressional conservatives who don't like the idea of the IRS and would prefer that it be smaller. "We deliberately lowered the IRS' funding to a level to make you think twice about what you are doing and why," House Appropriations Financial Services and General Government Subcommittee Chairman Ander Crenshaw (R-Florida) told Internal Revenue Commissioner John Koskinen last month. "You don't have a single dime to spare on anything frivolous or foolhardy or even mediocre. The IRS should focus on its core mission of providing taxpayer services such as processing returns and refunds, providing customer service like answering the phone, and catching tax cheats. If the IRS wants more solid and sustainable funding, then the IRS needs to show Congress and taxpayers that it can manage funding responsibly and administer the tax code objectively."
The functions that Crenshaw says should be the agency's core responsibility are exactly those that have been hurt thanks to budget cuts. In addition to customer service problems, the IRS is unable to audit enough returns to catch cheats. The audit rate fell to 0.86% last year, according to numbers provided to USA Today, the lowest rate in at least 10 years.
-Noel Brinkerhoff, Steve Straehley
To Learn More:
Union: IRS Budget Cuts Hurt Workforce, Customer Service (by Charles Clark, Government Executive)
Declining IRS Workforce Leaves Calls Unanswered as Tax Day Approaches, Union Says (by Lisa Rein, Washington Post)
IRS Audit Rate for Individuals Drops (by Kevin McCoy, USA Today)
Understaffed IRS Expected to Cut Back on Enforcement…and Help (by Noel Brinkerhoff and Danny Biederman, AllGov)
As IRS Budget Shrinks, Fewer than 1% of Charities are Audited (by Steve Straehley, AllGov)