IRS Didn't Answer the Phone 8.8 Million Times in 2015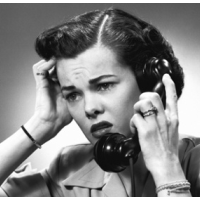 (photo: George Marks, Getty Images)
To say this tax season was frustrating for millions of Americans would be an understatement. The Internal Revenue Service (IRS) hung up on 8.8 million callers looking for help.
A report to Congress from National Taxpayer Advocate Nina E. Olson says the IRS disconnected so many incoming calls because there weren't enough customer service representatives available, causing the agency's phone system to just hang up on taxpayers looking for answers.
Hang-ups have occurred before, but nowhere near 2015's volume. Last year, the IRS disconnected about half a million callers.
"…Millions of taxpayers were unable to reach the IRS by phone; millions did not receive a timely response (if any) to their correspondence; and many more may have had to pay a tax preparer or professional for answers to tax law questions or for assistance they could previously have obtained from the IRS for free," Olson wrote.
Olson also found:
The average hold time was 23 minutes. Last year, it was 14 minutes.
Only a little more than a third of callers looking for help got through to a human, the lowest rate in a decade. In 2014, the IRS answered 71% of its calls.
Fewer than 10% of callers whose returns were flagged as suspicious for possible identity theft could get through to the IRS during the peak of tax season, according to The Washington Post.
Even those who reached the IRS could not always get the information they needed. The agency enacted a policy this year that their representatives couldn't answer questions that required "tax expertise." That pretty much rules out most things that people call the IRS about.
The IRS has struggled to operate since Congress began cutting its budget five years ago. The agency has lost $1.2 billion in funding, about 17% of its budget, since 2010.
-Noel Brinkerhoff, Steve Straehley
To Learn More:
The IRS Hung Up on Taxpayers 8.8 Million Times This Year. And There's More Bad News About Customer Service. (by Lisa Rein, Washington Post)
There Were 8.8M Calls the IRS Didn't Even Try to Answer in 2015 (by Amelia Gruber, Government Executive)
Objectives Report to Congress (National Taxpayer Advocate)
IRS Employees Say they are Unfairly Blamed for Deteriorating Service Caused by 5 Straight Years of Budget Cuts (by Noel Brinkerhoff and Steve Straehley, AllGov)