Iraq's Ambassador to the United States: Who Is Fareed Yasseen?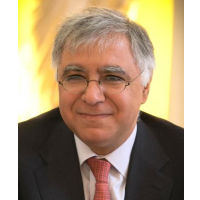 Fareed Yasseen
Fareed Yasseen, who was first a physicist, then a human rights advocate before joining Iraq's foreign ministry, took over as his country's ambassador to the United States in November 2016.
Yasseen's father, Mustafa Kamil Yasseen, was an Iraqi diplomat who defected after Saddam Hussein consolidated power as the country's ruler in the mid-1970s. His mother, Shahzanan Shakarchi Yasseen, was a university professor and the author of Collaboration Between International Organizations and Arab Middle East States to Improve the Status of Women.
Born in Baghdad on March 18, 1956, Yasseen graduated from Baghdad College high school and then lived in Europe and the United States. In January 1981, he earned a diplôme d'ingénieur physicien (post-graduate engineer-physicist degree) from the École polytechnique fédérale de Lausanne in Luasanne, Switzerland and, in June 1986, he received a docteur ès sciences physiques (Ph.D. in physics) from the same university. Yasseen spent ten years working as a physics researcher in Lausanne and Boston, and attended the Massachusetts Institute of Technology, where he earned a master's in management of technology in 1992.
From 1993 until 1996, Yasseen was a consultant in technology management. He was the head of the information unit at the United Nations Secretariat on Climate Change in Bonn from 1996 until 1998. He then served as a consultant at the Rand Corporation and the United Nations Conference on Trade and Development (UNCTAD) until 2001.
Yasseen's field of study was theoretical plasma physics related to fusion and space applications, in particular polar wind, a plasma outflow from the terrestrial ionosphere at high latitudes. But by the 1990s, he began to focus on human rights issues in Iraq as well. With a grant from the U.S. National Endowment for Democracy, he and Zuhair Humadi founded the Center for the Disappeared, an organization dedicated to remembering victims of Hussein's rule who were taken away by security forces and never seen again. In September 2002, thanks to a $150,000 grant from the U.S. State Department, they added a website, mafqud.org, to the organization and listed names of more than 10,000 missing Iraqis.
After the U.S. invasion, Yasseen was an adviser to Sunni governing council member Adnan Pachachi. Yasseen opposed the Bush administration's plans to privatize government-owned assets, such as cement plants and fertilizer factories, warning that only foreign companies and Iraqis who grew rich thanks to their friendships with Sadaam Hussein could afford to buy the enterprises. In 2004, he became director of policy planning in the Ministry of Foreign Affairs. The following year, he was appointed diplomatic adviser to Iraqi Vice-President Adil Abd al-Mahdi, a position he held until 2009, when he returned to the Ministry of Foreign Affairs.
Yasseen was named ambassador to France in May 2010. He remained in that post until taking the Washington job. He is also secretary-general of the Académie Diplomatique Internationale in Paris.
-David Wallechinsky, Steve Straehley
To Learn More:
Biography (Iraq Britain Business Council)
Prisoners' Parents Quiet No Longer (by Caryle Murphy, Washington Post)