All U.S. Nuclear Reactors Have Unfixable Safety Problems, Warns Former NRC Chairman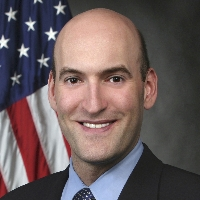 Gregory Jaczko
The United States has a serious problem with every nuclear reactor currently in operation, requiring that they be replaced or shut down, according to Dr. Gregory B. Jaczko, former chairman of the Nuclear Regulatory Commission (NRC). Reactor fuel continues to generate heat after a chain reaction is shut down and it is this problem that led to the Fukushima meltdown in Japan.
The issue raised by Jaczko echoed those expressed by anti-nuclear groups. But it was unusual for an ex-NRC chairman to raise such alarm impacting all 104 nuclear reactors in the country today.
Jaczko said the safety problem can't be fixed, which means either replacing the reactors or closing them down permanently.
While speaking before the Carnegie International Nuclear Policy Conference in Washington, Jaczko admitted it would not be practical to close down all the plants at once. A gradual phase out would instead make sense, he added, saying he does not support extending the life of reactors—many of which already are operating long past their original expiration.
When asked why he spoke out now, instead of earlier while he was still with the NRC, Jaczko said: "I was just thinking about the issues more, and watching as the industry and the regulators and the whole nuclear safety community continues to try to figure out how to address these very, very difficult problems," which were made more evident by the 2011 Fukushima nuclear accident in Japan, he said according to The New York Times. "Continuing to put Band-Aid on Band-Aid is not going to fix the problem."
Jaczko resigned from the NRC last summer following months of conflict with his commission colleagues. He was often in the minority as he voted for more stringent safety regulations, earning him distrust within the nuclear industry.
-Noel Brinkerhoff
To Learn More:
Ex-Regulator Says Reactors Are Flawed (by Matthew L. Wald, New York Times)
Looming Mass Nuclear Plant Retirement Will Push US Towards Total Fossil Fuel Dependency (by Graham Templeton, ExtremeTech)
40% of U.S. Nuclear Reactors Have Had "Near-Misses" Since 2010 (by Matt Bewig, AllGov)
Court Orders Nuclear Regulatory Commission to Explain Why it Exempted Indian Point Reactor from Fire Safety Regulations (by Noel Brinkerhoff, AllGov)
Nuclear Accident in U.S. Would Cost Taxpayers a Fortune (by Noel Brinkerhoff, AllGov)