In Post-9/11 World, Has U.S. Failed to Address the Rise of Non-Islamic Terrorism?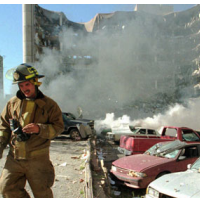 April 19, 1995, shortly after the explosion at the Oklahoma City federal building (photo: Jim Argo, Daily Oklahoman/AP)
Last week marked the 20th anniversary of the Oklahoma City bombing, the worst case of domestic terrorism in U.S. history. The attack on the Alfred P. Murrah Building killed 168 people, including 19 children. It motivated federal authorities to focus more than ever on internal threats from homegrown radicals. That is, until 9/11 came along.
For the past 15 years, the U.S. government has obsessively focused on ways to stop foreign, Islamic threats to the U.S. Consequently, less attention is being paid to the next would-be Timothy McVeigh, the white extremist who exploded the truck bomb in Oklahoma City on April 19, 1995.
A yearlong investigation by the Kansas City Star concluded that "while the number of violent incidents committed by domestic extremists is actually increasing, the holes in the net to catch them are growing larger."
These rising threats from within have been costly for local law enforcement and ordinary Americans. Dozens of homegrown attacks have killed more than 50 people, many of them police officers.
"We are five years into the largest resurgence of right-wing extremism that we've had since the 1990s," said Mark Pitcavage, director of investigative research for the Anti-Defamation League, told the Star. "When it comes to domestic extremism, what tends to happen is that a lot of it goes under the radar, and a lot — including murders and what you would think would be major incidents — only gets reported locally and regionally. So unless it happens in your backyard, the average American doesn't quite realize how much of this is happening."
Daryl Johnson, a former senior analyst with the Department of Homeland Security, told the Star the domestic danger is greater than ever. "Our leaders don't seem too concerned about the threat from within," he said. "My fear is that there will be some kind of mass-casualty attack, with more people dying needlessly at the hands of domestic extremists. That's what keeps me awake at night."
The Kansas City area experienced some of this local hate last year when white supremacist F. Glenn Miller Jr. shot three people to death outside two Jewish sites in Overland Park. Miller was heard shouting "Heil Hitler" while being taken away by police.
"The American radical right is again large and dangerous, comprising close to 1,700 groups and hundreds of thousands of individuals," wrote Southern Poverty Law Center's Mark Potok in Politico magazine. "Terrorism has risen again to the levels of the 1990s, with many afraid that the next attack on the scale of Oklahoma City could come at any time. And radical ideas have permeated much of our increasingly polarized political process, distorting our thinking and deflecting efforts to make ours a better country."
-Noel Brinkerhoff, Danny Biederman
To Learn More:
Ignoring the Terror within (by Judy Thomas, Kansas City Star)
Then and Now: Right-Wing Extremism in 1995 and 2015 (Anti-Defamation League) (pdf)
Oklahoma City Bombing: Right-Wing Extremist Threat 20 Years Later (by Brad Knickerbocker, Christian Science Monitor)
Law Enforcement Personnel Now View Sovereign Citizens as Bigger Terrorist Threat than Islamic Extremists (by Noel Brinkerhoff and Steve Straehley, AllGov)
Homeland Security Dept. Slashes Investigations of Non-Islamic Terrorism(by Noel Brinkerhoff and David Wallechinsky, AllGov)