In a First, NASA Radar Detector Saves Lives in Nepal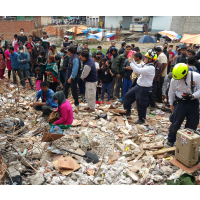 Rubble from building destroyed by Nepal quake is scanned for human life by FINDER, in lower right (photo: David Lewis, R4 Inc.)
Radar technology developed by the National Aeronautics and Space Administration (NASA) has been credited with helping save four people in Nepal following the 7.8 earthquake that struck on April 25.
Using a radar detector known as FINDER (Finding Individuals for Disaster and Emergency Response), rescue workers were able to locate two survivors in a collapsed textile factory and two others in a building in Chautara. FINDER, which is about the size of a suitcase, detected the people's heartbeats even though their bodies were buried under 10 feet of debris, including brick, mud and wood, according to the Jet Propulsion Laboratory (JPL).
The technology works by sending out a low-powered microwave signal and detecting changes in the reflections of the signal, which can indicate signs of human breathing and heartbeats. JPL said tests of FINDER have shown it can detect heartbeats through 30 feet of rubble or 20 feet of solid concrete.
Two FINDER prototypes were brought to Nepal by David Lewis, president of R4 Inc., which was granted a license for a version of the technology by the California Institute of Technology, which manages JPL for NASA.
Prototypes of the device have been tested by first responders in California, Florida, Georgia, Indiana, New Jersey, Oklahoma and Virginia within the last year.
FINDER was developed in collaboration between NASA's Jet Propulsion Laboratory and the Department of Homeland Security's Science and Technology Directorate.
-Noel Brinkerhoff
To Learn More:
FINDER Search and Rescue Technology Helped Save Lives in Nepal (Jet Propulsion Laboratory, NASA)
Hunting for Heartbeats: NASA Technology Rescues 4 Quake Survivors in Nepal (by Amina Khan, Los Angeles Times)