Hundreds of Thousands Wait in Line for Anti-Stupid Leader Vaccine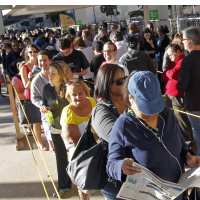 (photo:Alan Diaz, AP)
All over the United States, hospitals were swamped with people wanting the new Anti-Stupid Leader Vaccine, which eliminates all images of Donald Trump, replacing them with photos of forests and streams, and replaces all his words with the sound of birds singing or babies giggling. Most of the people taking the chewable vaccine were not fans of Trump and expressed joy and relief at not having to see or hear him again. However, there were those who do support the president and took the vaccine by mistake, thinking it was an anti-Covid-19 vaccine. One of these, Istvan Zavarodott, told AllGov reporter Sidney Finster, "I watch Fox News all day long, and I don't understand why there are suddenly long stretches of nature sights and sounds. And President Trump's tweets have disappeared. Now how am I supposed to know who to blame for everything each day? And what's this about Clorox not really being a cure for coronavirus?"
A Russian version of the Anti-Stupid Leader Vaccine that erases Vladimir Putin is said to be "spreading faster than the coronavirus."
In Iran, Supreme Leader Ali Khamenei expressed outrage at his elimination from television, radio and the internet and demanded that the other 11 members of Iran's Guardian Council get him back on the air. However, they too have been obliterated from public view.
The situation in China was even more dramatic because all media is controlled by the Communist Party. After a Chinese version of the Anti-Stupid Leader Vaccine was smuggled into the country, all statements and images of Xi Jinping and the six other members of the Politburo Standing Committee of the Communist Party of China were replaced by pandas, almost all television programming went dark and all non-commercial billboard posters disintegrated.
Confusion also reigned in India, where the words and images of Prime Minister Narendra Modi vanished, and his supporters were suddenly exposed to alternative sources of information. AllGov correspondent Saachi Sharma interviewed one Modi supporter who exclaimed, "I can't believe this. It turns out that Muslims are normal people, just like the rest of us."
Massive street parties were reported in Hungary and Belarus, while citizens of Great Britain and France anxiously waited to see if the vaccine worked against leaders who are merely ridiculous.
-David Wallechinsky
(satire)