Gov. Cuomo Bans Fracking in New York
Friday, December 19, 2014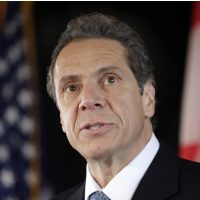 Gov. Andrew Cuomo (photo: David Duprey, AP)
Opponents of hydraulic fracturing have scored a major victory with Governor Andrew Cuomo's decision to ban the controversial drilling practice in the state of New York. The action makes the state the largest region in the country to place a ban on fracking.
New York stands to lose considerable profits from the ban, considering the large reserves of natural gas hidden within the Marcellus Shale that runs beneath the state and Pennsylvania.
State health officials said that until more studies can be performed, it was necessary to stop fracking because of the risks it poses to residents' water supplies. The decision comes in the wake of a state environmental review and a state Health Department report that concluded New York citizens' health would be placed at risk by continued fracking operations.
"We cannot afford to make a mistake," acting state Health Commissioner Howard Zucker told The Journal News. "The potential risks are too great. In fact, they are not fully known."
The industry, as to be expected, expressed frustration with the decision, calling the ban itself the real mistake.
"This is the wrong direction for New York," Karen Moreau, executive director of the American Petroleum Institute's New York State Petroleum Council, said in a prepared statement. "A politically motivated and equally misinformed ban on a proven technology used for over 60 years – throughout the country to great success – is short-sighted and reckless, particularly when New York depends on safely produced natural gas just over the border in Pennsylvania."
-Noel Brinkerhoff
To Learn More:
New York State Bans Fracking (by Abrahm Lustgarten, ProPublica)
Citing Health Risks, New York State Bans Fracking (by Talia Buford, Center for Public Integrity)
New York to Ban Fracking; Environmentalists Cheer (by Mary Esch, Associated Press)
New York Supreme Court Rules that Towns May Ban Fracking Despite State Law (by Noel Brinkerhoff, AllGov)