New York Supreme Court Rules that Towns May Ban Fracking Despite State Law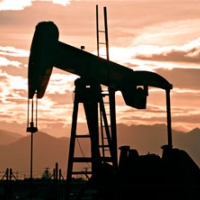 Fracking well (photo: Ed Andrieski, AP)
Opponents of hydraulic fracturing have won a key legal ruling (pdf) in New York State, where the state's highest court has said local governments can ban the controversial drilling practice regardless of state law.
The decision comes in the wake of several ordinances adopted by towns seeking to prevent fracking operators from drilling within their jurisdictions.
Those towns included Dryden in Tompkins County and Middlefield in Otsego County, which sought to keep companies out of their communities while the state imposed a statewide moratorium on fracking.
The wider ban, in effect during the last six years, was imposed to allow state health officials time to study the potential health effects of fracking. That study, under a self-imposed cloak of secrecy, is still in progress, its anticipated completion date recently having been extended.
The adoption of local anti-fracking measures prompted the industry to fight back in the courts, arguing state law superseded the towns' actions.
But in a 5-2 decision, the State Court of Appeals rejected this argument while upholding a lower-court ruling that also rejected companies' complaints.
Fracking critics were pleased with the decision.
"This sends a message to all the oil and gas drillers anxiously eyeing our borders: The people of New York will not be steamrolled," Kate Sinding, director of the Community Fracking Defense Campaign at the Natural Resources Defense Council, said in a statement.
Mary Ann Sumne, Dryden's town supervisor, accused the oil and gas industry of trying to "bully us into backing down, but we took our fight all the way to New York's highest court."
"I hope our victory serves as an inspiration to people in Pennsylvania, Ohio, Texas, Colorado, New Mexico, Florida, North Carolina, California and elsewhere who are also trying to do what's right for their own communities," she added.
-Noel Brinkerhoff
To Learn More:
New York Towns Can Prohibit Fracking, State's Top Court Rules (by Kate Taylor and Thomas Kaplan, New York Times)
Mark Wallach v. Town of Dryden (New York State Court of Appeals) (pdf)
Pennsylvania Supreme Court Says Frackers Can't Overrule Local Laws (by Matt Bewig, AllGov)
New York Judge Affirms Right of Towns to Ban Fracking (by Noel Brinkerhoff and David Wallechinsky)