National Traffic Safety Administration Failed to Protect Americans from Lethal G.M. Ignition Switch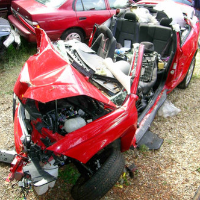 2005 Chevy Cobalt in which 16-year-old Amber Rose died (photo: National Highway Traffic Safety Administration)
General Motors has recalled more than 1.6 million Chevy Cobalts due to faulty ignition switches, prompting the National Traffic Highway Safety Administration (NTHSA) to launch an investigation. But this is not the first time that federal regulators learned about problems with the Cobalt, raising the question of why it took the NHTSA so long to act.
Last decade, GM conducted another recall involving the Cobalt, which in total has caused 31 accidents and 13 deaths stemming from the car's ignition switch shutting off the engine and electrical system, which disables its air bags.
The NHTSA knew of problems with the car as early as 2005, when it recorded the death of 16-year-old Amber Marie Rose in Maryland in July.
The New York Times wrote that the current recall represents "an embarrassment for federal safety regulators."
"After two of the Cobalt crashes, the regulators took a close look at the cause, each time raising the possibility of a defect. They also met with GM about the issue. But despite the red flags, they never opened a broader investigation into whether the car was defective," the Times' Christopher Jensen wrote.
Clarence Ditlow, executive director of the Center for Auto Safety, a nonprofit consumer advocacy group, says the federal regulatory process failed to do its job and protect Americans from a defective automobile.
"They got away with it because NHTSA never opened an investigation," Ditlow told the Times.
The agency's inaction led to a decade-long failure to address an important safety issue that could have been headed off sooner and resulted in fewer fatalities and injuries.
Joan Claybrook, who led the NHTSA during the administration of Jimmy Carter, was even more scathing in her critique of her former agency, saying it "ignored its duty to protect the public."
"General Motors should be criminally prosecuted for covering up this safety defect, and NHTSA should replace the staff that failed to do its job," she told the Times via email.
GM knew as early as 2004 that it had a problem on its hands with the Cobalt. The company's engineers apparently devised a fix in 2005, but GM officials opted not to implement it.
The auto manufacturer could be fined as much as $35 million by the government for not recalling the cars sooner.
-Noel Brinkerhoff
To Learn More:
In General Motors Recalls, Inaction and Trail of Fatal Crashes (by Christopher Jensen, New York Times)
Feds Investigating GM's Handling of Ignition Switch Recall (by David Shepardson and Melissa Burden, Detroit News)
Did GM Drag Its Feet in Ignition-Switch Recalls? (by James Hood, Consumer Affairs)
Top Auto Safety Administrator Leaves Government to Join Law Firm Representing Auto Companies He Investigated (by Noel Brinkerhoff, AllGov)
Chrysler Refuses to Comply with Federal Recall Order (by Noel Brinkerhoff, AllGov)