Fracking Linked to Flammable Drinking Water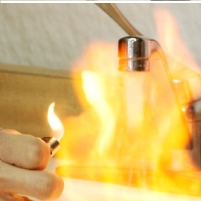 (photo: GasLand)
The controversial use of hydraulic fracturing (a.k.a. fracking) to bolster natural gas drilling has been linked scientifically for the first time to flammable drinking water.
Four scientists at Duke University found higher levels of flammable methane gas in drinking water wells located within close proximity to natural gas wells. The researchers also found that the type of gas detected at high levels in the water was the same type energy companies were extracting from thousands of feet underground, which could mean the gas had been seeping through natural or manmade faults and fractures, or coming from cracks in wells.
The Duke research involved 68 drinking water wells in the Marcellus and Utica shale drilling areas in northeastern Pennsylvania and southern New York State. Most of the wells had some methane, but the water samples taken closest to the gas wells had on average 17 times the levels detected in wells further from the drilling.
The researchers did not find that any of the chemicals used in fracking had contaminated the wells.
-Noel Brinkerhoff