Federal Judge Orders Ohio to Reinstate Early Voting
Monday, September 08, 2014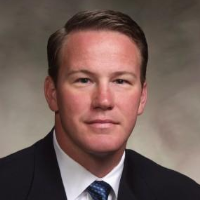 Jon Husted
Ohio Secretary of State Jon Husted (R) has been stopped again by a U.S. Circuit Court judge in his efforts to limit voting in his state.
Judge Peter C. Economus on Thursday ordered (pdf) Ohio to restore early voting during the evening and on two Sundays and to restore "Golden Week," a period in which voters may register and vote at the same time. Ohio Governor John Kasich (R) last February signed a bill pushed through the state's Republican-dominated legislature cutting early voting and eliminating Golden Week. Husted later cut evening and weekend voting hours. State officials claim the cuts were necessary to reduce voter fraud, but Economus dismissed that argument, saying it "did not withstand logical scrutiny." In-person voter fraud, often given as the reason by Republicans for instituting voting restrictions, is virtually non-existent.
Early voting and evenings and weekends are the time when many African-American and other minority voters go to the polls, often because they have no alternative because of their work schedules. Husted also tried to limit voting hours in the 2012 election, but was stopped by Economus that time as well.
In this case, Economus ruled that the cut in voting hours and days was a violation of Section 2 of the Voting Rights Act. "This ruling means that thousands of voters who have needed these particular early voting opportunities will continue to have that right," Dale Ho, director of the ACLU's Voting Rights Project told The New York Times. Whether the ruling will stand up to a possible appeal is unknown; many states have no early voting at all.
-Steve Straehley
To Learn More:
Breaking News and Analysis: Federal Court Grants Injunction Restoring Early Voting in Ohio (by Rick Hasen, Election Law Blog)
This May Be The Strongest Voting Rights Decision Since The Justices Hobbled The Voting Rights Act (by Ian Millhiser, Think Progress)
Federal Judge Orders Ohio to Undo Cuts to Early Voting (by Timothy Williams, New York Times)
Ohio Secretary of State Rejects Court Order to Extend Early Voting Hours (by Noel Brinkerhoff, AllGov)