Director of the Federal Emergency Management Agency: Who Is Brock Long?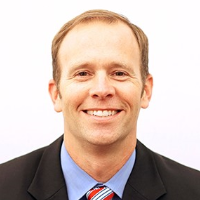 Brock Long
William Brockmann "Brock" Long, whose entire career has been spent in emergency management in the public and private sectors, was announced on April 28, 2017, as the director of the Federal Emergency Management Agency (FEMA). He was confirmed by a 95-4 U.S. Senate vote on June 20, 2017.
Long was born April 16, 1975, and is from Newton, North Carolina, son of William, a physician, and Kay. Long graduated from Newton-Conover High School and attended Appalachian State University. He earned a B.S. in criminal justice in 1997 and a master's in public administration in 1999.
Long entered the emergency management field right out of college, joining Georgia's emergency management agency as a planner and school safety coordinator. He joined the George W. Bush administration in November 2001 as a hurricane program manager in FEMA for six states—Alabama, Florida, Mississippi, Georgia, South Carolina and North Carolina, but, significantly, not Louisiana, which bore the brunt of Hurricane Katrina in 2005. One of his achievements was the distribution of a hurricane computer game for grade-school students that focused on preparedness for such storms.
Long left FEMA in 2006. The following year, he was named southeast regional director for Beck Disaster Recovery, a consulting firm that specialized in emergency planning, disaster training and post-event recovery. In January 2008, Long became director of the Alabama Emergency Management Agency, where he directed the state's response to incidents as different as the H1N1 flu virus and the BP Deepwater Horizon oil disaster in the Gulf of Mexico, as well as hurricanes and other storms. Long's experience with schools was particularly prized by Alabama after a school in the town of Enterprise collapsed during a 2007 tornado, killing eight students.
Long also served on the board of directors of the Central United States Earthquake Consortium.
He returned to the private sector in January 2011 as an executive vice president for Hagerty Consulting, which advises on homeland security and emergency management issues. He is also the private sector chairman of the National Emergency Management Association, which brings together the state directors of emergency services.
Long and his wife, Amanda, have two sons: William and Isaac. They make their home in Hickory, North Carolina.
-Steve Straehley
To Learn More:
Brock Long (LinkedIn)
Brock Long (Hagetrty Consulting)