FCC Decision Allows Your Online Activity to Continue Being Tracked
Wednesday, November 11, 2015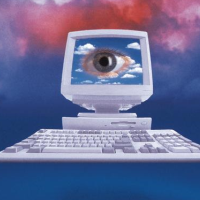 (graphic: Comstock/Getty Images)
The Federal Communications Commission (FCC) has rejected a petition from a consumer group to require online companies to honor do-not-track requests from consumers.
Consumer Watchdog petitioned (pdf) the FCC to start developing a new regulation mandating 'edge providers' such as Google, Facebook, YouTube, Pandora, Netflix, and LinkedIn to honor do-not-track requests from consumers. Users can set their browser preferences to request that their online movements aren't tracked, but few companies comply. "Some companies have committed to honor do-not-track requests," according to Jon Brodkin at Ars Technica, "but they are mostly ignored."
In petitioning the FCC, Consumer Watchdog wrote "many consumers are as concerned—or perhaps even more worried—about the online tracking and data collection practices of edge providers... edge providers collect the same sensitive personal information that broadband Internet access service providers collect, and that the Commission is committed to protecting. If the Commission does not act to regulate the collection of personal information by edge providers, the Commission will in effect be granting a regulatory advantage to the edge providers, implicating concerns of market distortions."
The FCC responded (pdf) that it is not in a position to do what Consumer Watchdog requested, even though the commission did reclassify broadband as a common carrier service. The FCC did not intend to "regulat[e] the Internet, per se, or any Internet applications or content," according to the commission.
The FCC added "its 'reclassification of broadband Internet access service involves only the transmission component of Internet access service.'"
To do what Consumer Watchdog wanted would be "inconsistent with the Commission's articulation of the effect of its reclassification," and inconsistent with its plans for new privacy rules that affect only broadband providers, the FCC said.
-Noel Brinkerhoff
To Learn More:
Websites Can Keep Ignoring "Do Not Track" Requests after FCC Ruling (by Jon Brodkin, Ars Technica)
FCC Won't Force Websites to Honor 'Do Not Track' (by Gregg Keizer, Computerworld)
What is Facebook Doing with My Data? (by Jane Wakefield, BBC News)
Raytheon People-Tracking Software can be Sold Outside U.S. (by Noel Brinkerhoff and David Wallechinsky, AllGov)
Hundreds of Apps for Children Collect Their Private Information without Alerting Parents (by Noel Brinkerhoff and Danny Biederman, AllGov)