Hundreds of Apps for Children Collect Their Private Information without Alerting Parents
Thursday, December 13, 2012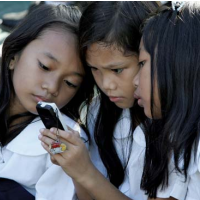 (photo: Bullit Marquez, AP)
Many of the most popular apps for children have been collecting personal information without first informing parents, according to the Federal Trade Commission (FTC).
The FTC examined 400 children's apps available on Google and Apple platforms and found that only 20% disclosed their data collection practices.
Information collected by the apps includes phone numbers, precise locations and unique serial codes of a mobile device, which are then transmitted to app developers, advertising networks or other companies, according to the FTC report.
Regulators warned that the information could be used to locate or contact children or track their activities across different apps without their parents' knowledge or consent. Furthermore, said the FTC, third parties that receive this information can potentially develop detailed profiles of the children based on their behavior in different apps.
Additionally, 17% of the apps reviewed allow children to make purchases of virtual products within the app, with prices ranging up to about $30. App indicators giving advance alert of such purchasing capability were often not prominent and tended to be difficult to understand, even by adults.
It was unclear if this information-gathering practice violated federal law.
But the FTC is nonetheless preparing to bolster protections by requiring site operators to obtain parental consent before collecting many other kinds of personal information from children. "We think this is a systemic problem," said Jessica Rich, associate director of the FTC's financial practices division. She warned that parents will be mistaken if they think that "if they avoid certain apps, they are home free."
Apple, Facebook, Google and Viacom, along with technology associations and marketing industry groups, oppose the tougher regulations, claiming they could discourage companies from offering children-oriented sites, apps and other services.
-Noel Brinkerhoff, Danny Biederman
To Learn More:
Apps for Children Fall Short on Disclosure to Parents, Report Says (by Natasha Singer, New York Times)
FTC's Second Kids' App Report Finds Little Progress in Addressing Privacy Concerns Surrounding Mobile Applications for Children (Federal Trade Commission)
Mobile Apps for Kids: Disclosures Still Not Making the Grade (FTC Staff Report) (pdf)
Texas Judge Challenges Right of Schools to Search Student Cell Phones (by Noel Brinkerhoff and David Wallechinsky, AllGov)
Google Pays Record $22.5 Million Fine for Privacy Violations (by Noel Brinkerhoff, AllGov)