FBI Still Searching for Living Suspects in 1946 Mass Lynching
Wednesday, February 18, 2015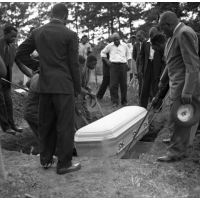 Burial of victims of the 1946 mass lynching in Georgia (photo: Georgia State University Library/Atlanta Journal-Constitution)
The Federal Bureau of Investigation (FBI) is still looking for those responsible for what's been called America's last mass lynching, which took place nearly 70 years ago in Georgia.
Given how long ago the event took place, federal authorities are racing against time. The remaining suspects in the shooting of four African Americans are currently in their 80s and 90s, according to The Guardian.
The murders took place near the town of Monroe on July 25, 1946 at the Moore's Ford Bridge, where two black couples, George and Mae Murray Dorsey, and Dorothy and Roger Malcom, were forced out of a car, tied up and shot 60 times by a white mob. Dorothy Malcom's pregnant body was cut open and her unborn baby removed by the assailants.
Members of the Ku Klux Klan were suspected of being involved, but a grand jury investigation at the time yielded no indictments. The driver of the car, a white man named Loy Harrison, was suspected of informing the Klan about the trip, but that was never proven.
The case went cold until 2000, when then-Governor Roy Barnes reopened the state's inquiry. The FBI reopened its case seven years later. FBI agents have reportedly talked to one resident, Charlie Peppers, 86, about the crime. Peppers, who was 18 when the lynching occurred, has denied taking part in it and told The Guardian: "The blacks are blaming people that didn't even know what happened back then."
A new report (pdf) by the Equal Justice Initiative says the state of Georgia had more lynchings, 586, from 1877 to 1950 than any other state.
The lynching is re-enacted annually to campaign for the prosecution of those responsible and to remind the public of the history of violence against African-Americans in the United States.
-Noel Brinkerhoff
To Learn More:
FBI Investigates Claim Suspects in 1946 Georgia Mass Lynching May Be Alive (by Jon Swaine, The Guardian)
An Unlikely Friendship Breathes New Life Into 1946 Lynching Mystery (by Christian Boone, Atlanta Journal-Constitution)
1946 Georgia Lynching (Wikipedia)
Moore's Ford Bridge Lynching Reenactment (YouTube)
Lynching in America: Confronting the Legacy of Racial Terror (Equal Justice Initiative) (pdf)