FBI Background Check System Failed to Stop Ineligible Dylann Roof from Buying Gun he Used to Kill 9 Black Churchgoers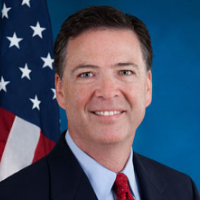 James Comey
The system that was supposed to have prevented Dylann Roof from purchasing the gun he used to kill nine members of the Emanuel AME Church on June 17 broke down, the Federal Bureau of Investigation's director admitted Friday.
FBI Director James Comey called reporters into his office Friday to admit that his agency could have stopped Roof from buying the gun used in the massacre, but a jurisdictional quirk caused its routine investigation to be held up long enough that the gun dealer legally let Roof have the gun. "Dylann Roof, the alleged killer of so many innocent people at the Emanuel AME church, should not have been allowed to purchase the gun he allegedly used that evening," Comey told reporters.
Roof was arrested in March in Columbia, South Carolina, on a narcotics charge. That normally would have prevented Roof from buying the gun the following month. However, Columbia is split between two counties and the county initially contacted by the FBI investigator through the National Instant Criminal Background Check System had no record of Roof's arrest. The file was tagged for further investigation, but the law says that retailers may release a gun if there is no response on the investigation within three days. The gun store did this, and Roof had his gun.
"This case rips all of our hearts out," Comey said. "But the thought that an error on our part is connected to this guy's purchase of a gun that he used to slaughter these good people is very painful to us."
The error makes clear the need for more complete investigations of gun buyers. "Like the Virginia Tech massacre, the Columbine massacre, and countless every day shootings, gaps in our gun background check system contributed to the Charleston attack," Arkadi Gerney, senior vice president at the Center for American Progress, said in a statement. "The answer is simple: all records of prohibited individuals need to go in the FBI system and every gun sale needs to go through a background check." Thirty-three people died in April 2007 as a result of a mass shooting at Virginia Tech University. Shooter Seung-Hui Cho should have been disqualified from buying the gun he used, but his investigation also fell through the cracks of the system.
Right-wing politicians were quick to try to head off calls for more complete checks, however. Senate Judiciary Committee Chairman Chuck Grassley (R-Iowa) told The New York Times: "It's disastrous that this bureaucratic mistake prevented existing laws from working and blocking an illegal gun sale. The facts undercut attempts to use the tragedy to enact unnecessary gun laws. The American people, and especially the victims' families, deserve better."
At least he got the last sentence right.
-Steve Straehley
To Learn More:
Statement by FBI Director James Comey Regarding Dylann Roof Gun Purchase (Federal Bureau of Investigation)
FBI: Breakdown in Background Check System Allowed Dylann Roof to Buy Gun (by Ellen Nakashima, Washington Post)
Background Check Flaw Let Dylann Roof Buy Gun, FBI Says (by Michael S. Schmidt, New York Times)
National Instant Criminal Background Check System Fact Sheet (Federal Bureau of Investigation)