Fastest-Growing Complaint of American Consumers: Imposter Scams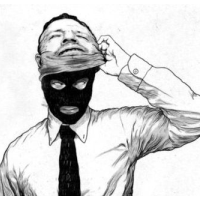 (graphic: David Foldvari, Ctrl.Alt.Shift Unmasks Corruption)
By Susan Salisbury, New York Times
WEST PALM BEACH, Fla. -- Complaints about phony IRS agents and other imposter scams, tax ID theft and energy services were the top three fastest-growing complaints last year, according to a new report.
Susan Grant, director of consumer protection and privacy at the Consumer Federation of America, said, "Scammers are always changing their pitches and looking for things that work. The IRS phony agent obviously works. It scares the heck out of people."
The Consumer Federation of America and the North American Consumer Protection Investigators report (pdf) is based on input from 33 consumer agencies from 21 states, including the Florida Department of Agriculture and Consumer Services.
Grant said imposter scams of all kinds have really taken off in the last year. She theorizes that a lot of people are behind on paying their taxes and don't realize that the IRS does not call people asking them to send money.
"There is an alarming trend. It has gotten to the point that if someone is saying they are from a government agency, or your utility, or it's your boss, you really don't know whether in fact that is true. You need to be skeptical and check directly with whom they purport to represent before you send any money or give information," Grant said.
In a new type of imposter scam, crooks infiltrate companies' or organizations' email systems and send messages purporting to be from the CEOs to employees with urgent instructions to wire money somewhere.
Tax and wage-related fraud were the most common forms of identity theft reported to the Federal Trade Commission last year, so it's no surprise that tax ID theft was one of the fastest-growing complaints to state and local consumer agencies, the report says.
Aggressive sales tactics for solar power and electricity seem to be at the root of energy services complaints.
"Consumers are misled about the potential savings, locked into long-term contracts, and in some cases, discover that their service has been switched ... without their consent," the report states.
The top 10 complaints received last year by agencies participating in the CFA survey were automotive, home improvement/construction, utilities, credit/debt, retail sales, services, landlord/tenant, household goods, health products/services and internet sales.
To Learn More:
2015 Consumer Complaint Survey Report (by Consumer Federation of America and North American Consumer Protection Investigators) (pdf)
Women over 50 most Common Victims of Online Romance Scams (by Steve Straehley, AllGov)